Day Two
started by the pool, after a lavish cooked (buffet style) breakfast.  To offset the guilt of the rum punches from the previous evening and the recently devoured breakfast, we decided to do the Aqua aerobics at the resort.  It was tough, but we threw ourselves into it and gave it everything we had. It was really good fun, made even better by the sun and the serene setting and of course the playful banter of our co-splashers!
After a wander down the beach, looking at a washed up boat just abandoned on the sand like a discarded toy, we headed back to the resort via the local shops lining the beach.  (Pic) The interesting thing that struck me at this point was that the sellers honestly didn't hound you to view or buy their wares.  You could look and touch, have a small conversation and then simply move on without any pressure. I personally found that really refreshing.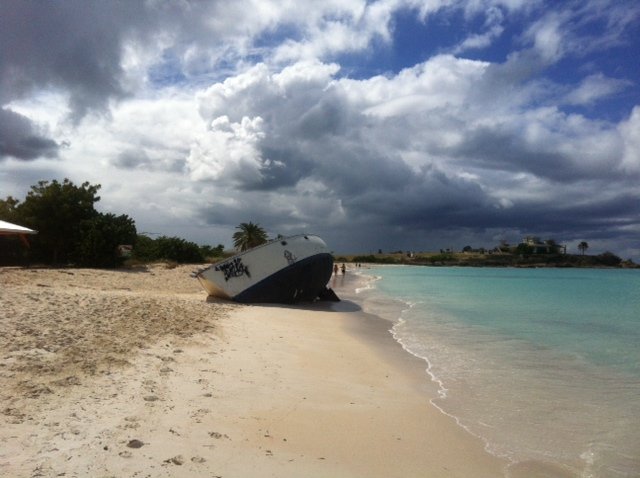 We had lunch al fresco at the beach bar, but unfortunately that was where my day pretty much ended, as I succumbed to what we now believe was heatstroke.  Not good.  Really quite scary in fact and very scary for Cal too, as you take for granted the ease of coping with being unwell when in familiar surroundings.  Here we were faced with a $200 USD call out charge for a Doctor and Cal had to ascertain all of this with anxious visits to the Reception desk, as our phone in the room turned out to be broken.  If you've never experienced heat stroke before, firstly well done for being sensible and taking precautions in the first place and secondly, avoid it all costs if you can.  It started with mild palpitations and a racing pulse averaging 130 beats per minute, dizziness, joint pains and a headache.  Then came the fever, an inability to get warm (I was in Antigua remember) despite turning the AC off and opening the doors to allow the warm air in, plus wearing leggings, a top and cardigan under the bed sheets and throw.  Then came the shakes and the constant threat of blacking out. I eventually fell asleep late afternoon and awoke to my fever having broken, being drenched in sweat and feeling clammy and disorientated. All very scary and humbling and not at all how I had envisaged our day going.
From start to finish the serious symptoms lasted 6 hours before they gave me some hope of coming out the other side.  I even showered and joined Cal for an attempt at dinner, before I realised I was probably pushing my luck as my dizziness and racing pulse returned.  So it was off to bed for me and what I imagined was a very restless night for Cal too. (I've since learned he actually slept like a baby!).