Summary
With an 8-hour flight time to Antigua from the UK and 5 hours from mainland US, Antigua is a popular destination for many travellers looking for the classic sun and sand, with warm and (mostly) calm, turquoise seas lapping at your feet.
The Antigua Flag
The colours in the Antigua flag are very symbolic. The yellow sun is to represent a new dawn or era. The red is said to represent the slavery period by some but more often a dynamic of its people. The blue represents the sea and the V shape for victory. The black represents the black man.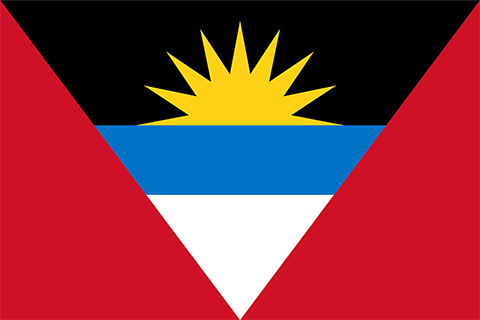 The Antigua airport code is ANU, which can be super helpful to know when planning your trip as some search engines need this as a standard search term.
For Antigua Arrivals Click Here >>
For Antigua Departures Click Here >>
Antigua Climate
The Antigua weather is warm throughout the year with welcoming coastal breezes. You can expect temperatures of between 25-30 degrees the day, with an evening temperature of 22-26 degrees.
Despite any potentially rainy weather forecast, any rain tends to move on quickly and can actually be quite a refreshing break from the heat.
It is worth noting about Antigua Caribbean weather that the hurricane season is from the beginning of June to the end of November, when a tropical storm can mean consistent rain for several days. However, in the past half a century there have only been 6 land hits from hurricanes, with most passing without too much incident. Barbuda was very unlucky to have had a direct hit by Hurricane Irma in August September 2017.
Language and Antiguan Culture
The Antigua language is English, spoken by all Antiguans as their main language with some locals using Antiguan Creole. Most Christian church denominations are represented across island, with many families attending regular church services.
Power and Electricity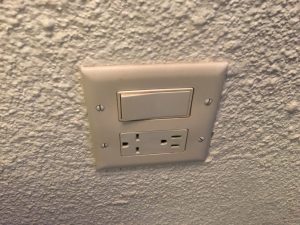 The standard Antigua electricity is usually as follows;
Voltage: 230 V
Frequency: 60 Hz
Power sockets: 2 pin (US standard)
Some parts of the island have been known to use 110V and 220V too, so just be aware that depending on where you are the Antigua voltage, it may be any of the above!
What Time Is It In Antigua? Time-zone
Antigua time is Atlantic Standard Time (AST). In line with GMT there can be an hour's difference at some points of the year. To check on the current Antigua local time, please click (What Time Is It In Antigua?) here.
Currency
The currency in Antigua is ECD (Eastern Caribbean Dollar), however US Dollars are widely accepted as Antigua currency, with most items being priced with both denominations quoted. Travellers cheques and most credit cards are accepted too.
There are a number of ATM's across the island, but St. John's is your best chance of success. Banks can be found at the airport, in St John's, Jolly Harbour and Nelson's Dockyard and also within Woods Shopping Mall.
Here is a useful currency conversion cheat sheet which quickly converts common prices into your currency.
Cellular Phones and WIFI
The Antigua country code is 268, prefixed with a 1 if you are calling from outside the US. It is worth knowing that whilst most tri-band phones will work in Antigua, a lot of people choose to purchase a SIM card with a local number. As long as you have an unlocked phone, this works out the cheapest way to communicate when on the island and top-ups can be purchased at the supermarket tills.
Most resorts, hotels and even the private villas and apartments offer WIFI, but it should be noted that generally the speed is not great and your connection will drop quite frequently, or you will find the sheer number if people trying to access it at a given time makes the network unavailable, so it should not be relied upon!
If this causes a major issue to you, there are several wifi hotspots dotted around Jolly Harbour, St. John's and English Harbour. In fact ask any bar or restaurant who often provide customer access.
Postal Services
Should you need a Post Office during your stay in Antigua, you will find them within the airport, in St John's, at Nelson's Dockyard and at Woods Shopping Mall.
The main Post Office office can be reached at: +1 (268) 562 2281.
Water
It is not advisable to drink the tap water in Antigua, so it's best to stick to bottled water.
Medical
Vaccinations for Antigua
When visiting Antigua, it is not normally necessary to have any additional vaccinations before travelling, assuming your standard vaccinations are fully up to date. However, it is always advised that you check with your local GP/Physician for absolute certainty. Just ask them about Antigua vaccinations and they can provide you with the WHO standard at that time. World Health Organisation Antigua
Emergency Contact Telephone Numbers
Emergencies: 999 or 911
Fire Department: +1 (268) 462 0044
Police Department: +1 (268) 462 0125/999
Ambulance Service: +1(268) 462 0251
Most hotels offer a call out service for a local GP at a charge, usually around 250 USD. However, it is always useful to know where the main medical centres and hospitals are located, should this become necessary;
Mount St John's Medical Centre, St. John's – this is a main general hospital which also has critical care facilities. Most insurance plans are accepted here, but always check before commencing any treatment what the costs will be and if your insurance will cover this at the outset.
Adelin Medical Centre, St. John's – this is a private hospital with no critical care or ambulance and has no resident GP. Consultant/surgeon led only.
Physicians and Dentists
There are a number of physicians and dental practitioners in Antigua. You can find some specialist here [ http://medicalspecialists.health.gov.ag ]
on this website. Active link was removed because it has stopped working. But try the address manually.
Antigua Visa and Antigua Embassy
Generally, visitors from the Europe and North America do not require a Visa to travel to Antigua, however it is always advisable to ensure you know the Visa requirements as a citizen of your country visiting Antigua before you finalise your trip. Full information can be obtained via online research or by visiting the Antigua Embassy website but make sure you allow enough time for any issuance turnaround times, should a visa be required, to avoid any delays to your trip.
Antigua Safety
As with any location around the world, all visitors to Antigua should take care to ensure they do not become a victim of crime, though crime on the island remains pretty low.
Simple precautions like not walking alone at night or in dark secluded areas, keeping your personal belonging out of sight in your car or on the beach, can all help reduce your chances of having your trip spoiled.