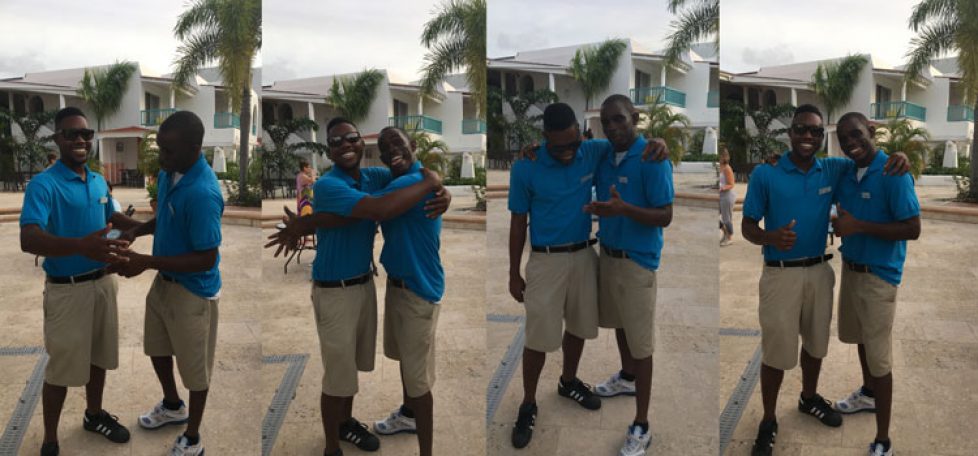 I share my wisdom of the island it's beaches and attractions and provide a list of the most interesting resorts in Antigua. For the resort to make it here under it must be best at something – will will let you know what that is for a range of prices and categories of resorts.
Tags
[Luxury] Luxury is hard to define for everyone. Certainly in these featured resorts you will find luxury in the sense that you will feel pampered and have full range of services available in house. The accommodations also meet high standards. It would be reasonable to let you know that luxury in Antigua is not the same as a seven star Burj Al Arab in Dubai for example.
[Family] Catering to the demands of families and heading for a resort aimed at families makes sense. You will find differences in the style of dining and entertainments available. You may find levels of service and luxury still depending on the particular resort. Other reasons for the existence of the family resort is that some resorts have minimum age restrictions. So coming with children under 12 can be limiting here.
[Boutique] A boutique resort is a small-scale luxury resort that offers personalized services and unique experiences to its guests. Typically, a boutique resort has less than 100 guest rooms (in Antigua much less) and is situated in a fashionable urban or remote location. The resort's design and decor are intentional and distinct, with an independent attitude that sets it apart from corporate hotels. The best travel writers describe boutique resorts as intimate, stylish, and offering a catered, personal experience to each guest.
[All Inclusive] Antigua likes the all inclusive plan. It suits me too! Having control over the cost of a vacation before you know how much things cost is a good thing. You also can't beat the value and more-so the convenience that an all inclusive offers. In this resort list we tag those resorts who at least offer this plan among other board basis.

[Booking] Booking links open up with the respected and trusted Booking.com you can get an idea for the nightly rate and the types of rooms on offer. You do not get charged more for clicking through these links and we use revenue to support the development of Antigua Blog. Thank You!
Curtain Bluff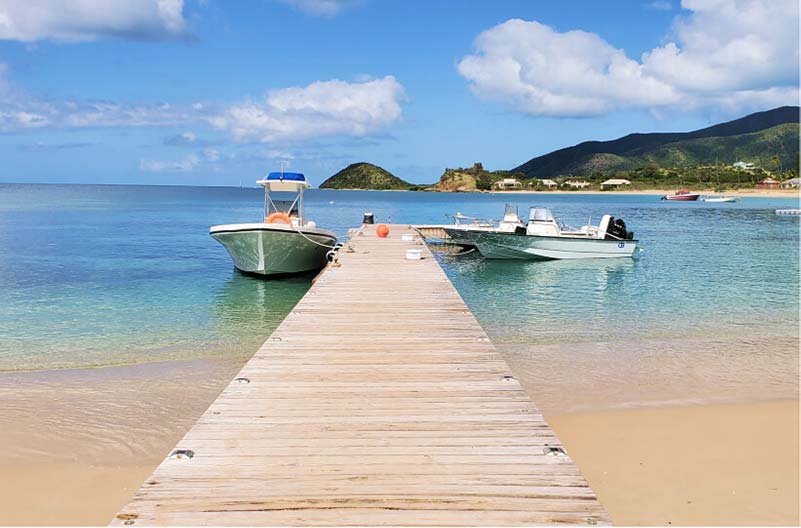 [Luxury][Boutique] [Booking.com]
Curtain Bluff is located on the south west shores at the end of Fig Tree Drive It has gone through a renovation in 2017 to the tune of 13 million. An all inclusive resort of 72 rooms without TV on purpose. Especially popular for Antigua Weddings and Honeymoons due to the stunning locations and panoramic views. Excellent beaches and facilities which include 4 tennis courts.
Official website https://curtainbluff.com/
Press Releases
http://www.travelweekly.com/caribbean-travel/curtain-bluff-renovations-leave-charm-intact
---
The Verandah Resort and Spa
[Family] [Booking.com]
Go East side and stay in comfortable lodgings with your family. Close to Devils Bridge with great beaches onsite and nearby. Consider this Elite Islands resort an option. 180 Duplex suites accommodate you in style.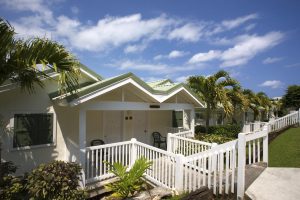 2 onsite beaches and typical stunning views over the calm turquoise waters.
Read more on Verandah Resort Antigua
---
[Luxury] [Booking.com]
Sandals Grande offers the ultimate in all inclusive luxury and is a very popular choice for anyone searching for that romantic holiday and is continually voted as best romantic hotel year on year.
---
Galley Bay Resort & Spa
[Luxury] [Booking.com]
Galley Bay Resort and Spa One of Elite Island Resorts well located at the west of the island next to Galley Bay beach. This is an excellent venue for Antigua Weddings too.
---
Sugar Ridge Resort
[Luxury]
Sugar Ridge Resort and Aveda Spa located in the south east with magnificent panoramas. Top boutique resort and spa sought after for weddings, luxury respite and recharging. Check out their video on youtube. Learn more over at Sugar Ridge Resort. A continuous beach shuttle gets you to and from the best beaches this side of the island.
---
Jumby Bay
[Luxury] [Booking.com]
The last word (some will argue) in high end exclusivity and luxury for the Caribbean. Situated on it's own private island is Jumby Bay. Enjoyed by celebs of the A list and those not wishing for notoriety, just pure indulgence.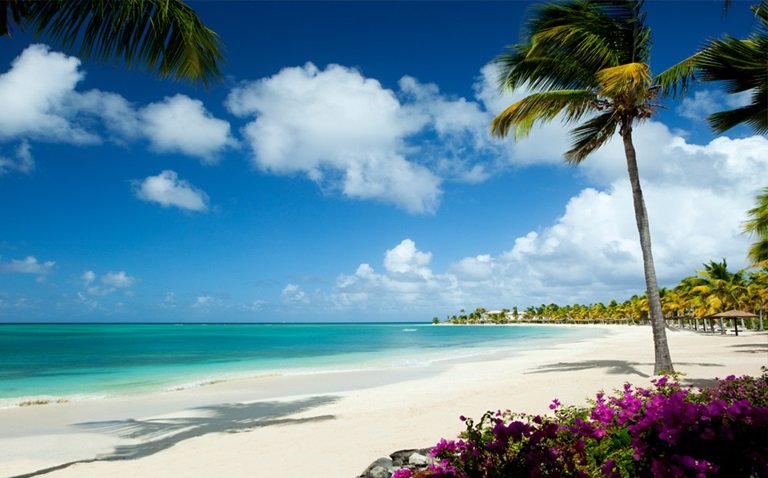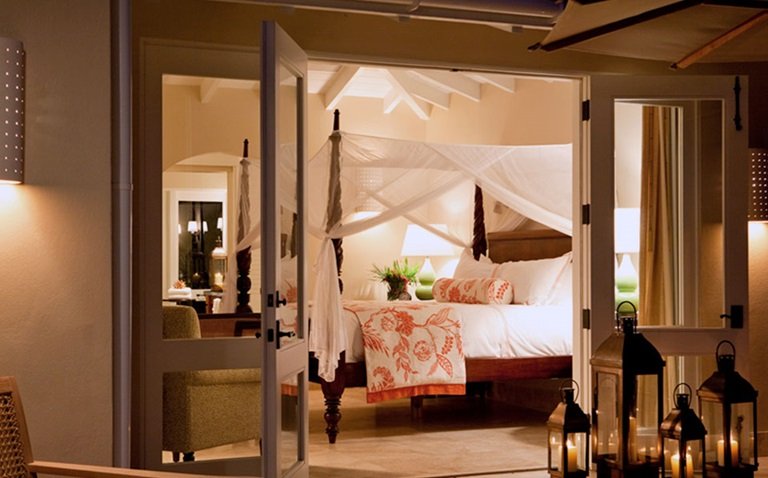 This exclusive resort is located on it's own private island, where the only access is by boat transfer only 5 minutes from the airport. If you are looking for an all singing all dancing, luxury 5 star experience, then look no further.
---
Cocobay Resort
[Boutique] [Booking.com]
Cocobay Resort Antigua is a really pretty, chic and luxurious hotel, with all the finer details and treats that you would anticipate from such a resort. The outdoors bath looks amazing and look at that view! What a place to wash up for the Antigua evening.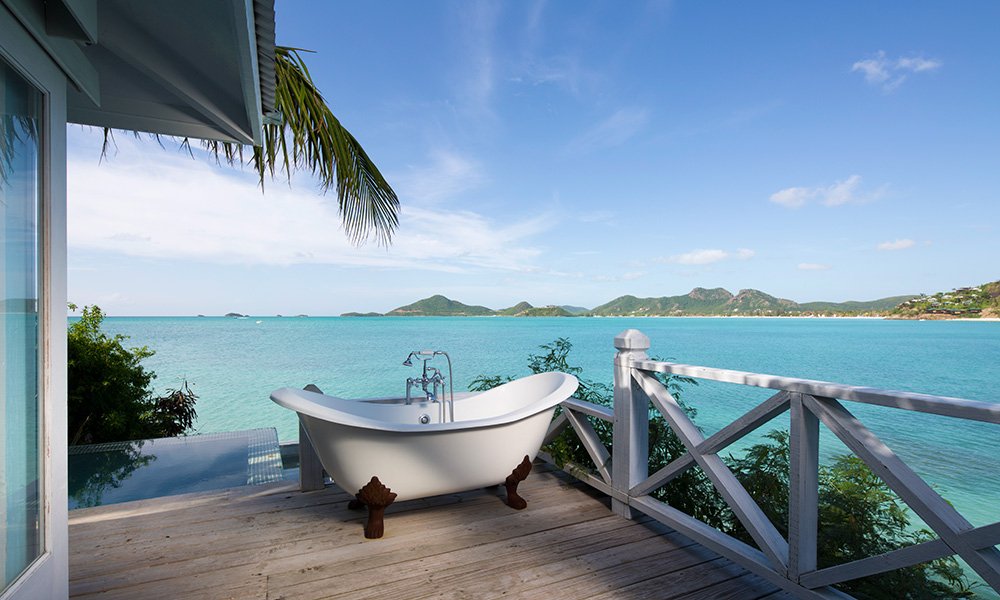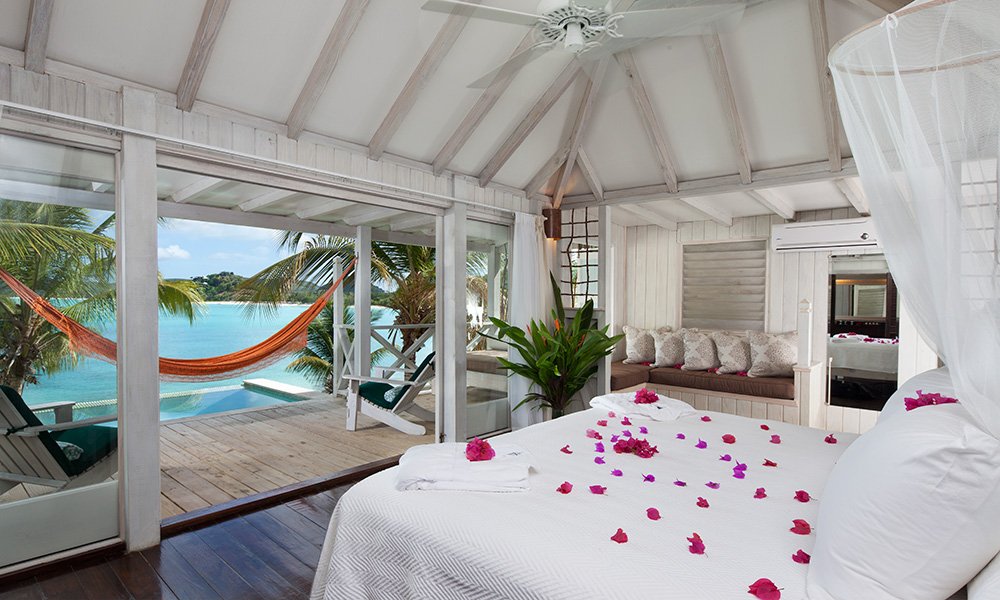 You can check availability and the best rates with Booking.com
---
[Booking.com Residences] [Booking.com Escape]
On the east side of Antigua in a secluded bay find various types of dwellings in an ideal location mentioning their white sand private beach. Stay in a beachside cottage to a hilltop villa.
---
St James Club and Villas
The St James Club offers resort amenities to villa style accommodation and tradition resort accommodation. The resort is well rated and offers exceptional value at a lower price point than the very high end luxury resorts so we place it in the best all inclusive category.
Pineapple Beach Club
Located in the east near the Verandah resort at Long Bay this is a very good newly refurbished in parts resort. Take a look at our page Pineapple Beach Club on the club!
---
The Hawksbill
[All Inclusive]
The Rex Resorts Hawksbill Antigua named after the turtle species is spaced out over 5 wonderful beaches. The farthest is clothing optional Eden beach Antigua. The resort is worth adding to your shortlist.
---
The Jolly Beach Resort and Spa
The Jolly Beach Resort as you imagine is on Jolly Beach in the South East part of Antigua.
For Jolly Beach Resort best prices head for Booking.com or read more about it with reviews here.
---
The Halcyon Cove
The Halcyon Cove story has come to an end. Royalton are now developing a new kind of fun resort experience they call chic. The Royalton CHIC replaces the Halcyon and quite frankly that is saddening. This was a special resort with a unique feel. This corner of the island is going to get a new drum beat right next door to Sandals.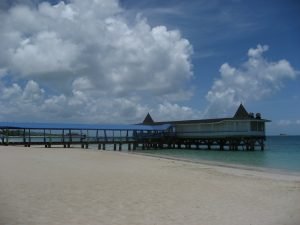 The Halcyon Cove in Dickenson Bay : Best for its ideal size and friendly staff at a budget (TIP : go all inclusive).
---
Antigua Resorts For Business
Business resorts have facilities geared towards the business traveller. This means they either want to be resting or getting things done. Having a full length mirror and working desk with enough space to think.
Trade Winds Hotel
[Boutique] [Booking.com]
51 rooms situated up the road from Dickenson Bay. Lovely onsite swimming pool, bar area and a restaurant favored by locals who know. A perfect value opportunity to conduct business from.
Trade Winds Hotel, a boutique hotel that has an amazing location for the airport and the Capital St Johns – Not least finding itself on the hills above Dickenson Bay with unparalleled inspiring views across the Caribbean Sea is a firm favorite with the businessman. Trade Winds Hotel Direct Deals
If you want to find all the resorts on Antigua via a map then here are a couple of good places to look.
https://goo.gl/maps/D5m2ioJGdfB2
---
Also see our page for cheap places to stay in Antigua