Spending the day in the Halcyon Rex
It's day 7 of Antigua Holiday. I had been driving quite a lot this vacation and wanted to chill out and enjoy the Halcyon Cove experience. Fenton the resorts activity manager was around now and it was good/funny to see him around entertaining the guests with aqua aerobics, beach cricket and volleyball. He went and found us the volleyball and at request put up the net across the pool and we had a fun game before lunchtime with some Canadian folks. Yes aqua aerobics had not been skipped either so we were burning calories too. Today was to be a mega burning day. Aqua aerobics does that great thing getting the oxygen back into the body after the alcohol of the night before seems to drain it all away. Alcohol has no good  effects apart from the reason why we do it. We were all enjoying very early cocktails I like my rum runners but hadn't had any lately and couldn't recall why I think the last may have been in key largo.
It was a Saturday, my most recent one. Today was going to be about enjoying the sun as well and my shuffle and reading a bit too. With that mix of morning activity lunchtime came and it was over to the outdoors lunch area.
A mistake
I made the mistake of taking somewhere between a sip and a gulp of shower water and it did make me susceptible to needing the toilet at times throughout the day today most notably.
End of an era
It should be mentioned that this is a very pleasant place to dine with the sounds of the beach right there as you are all but right on the beach. I wonder what will happen to the Halcyon Cove and this corner of Antigua.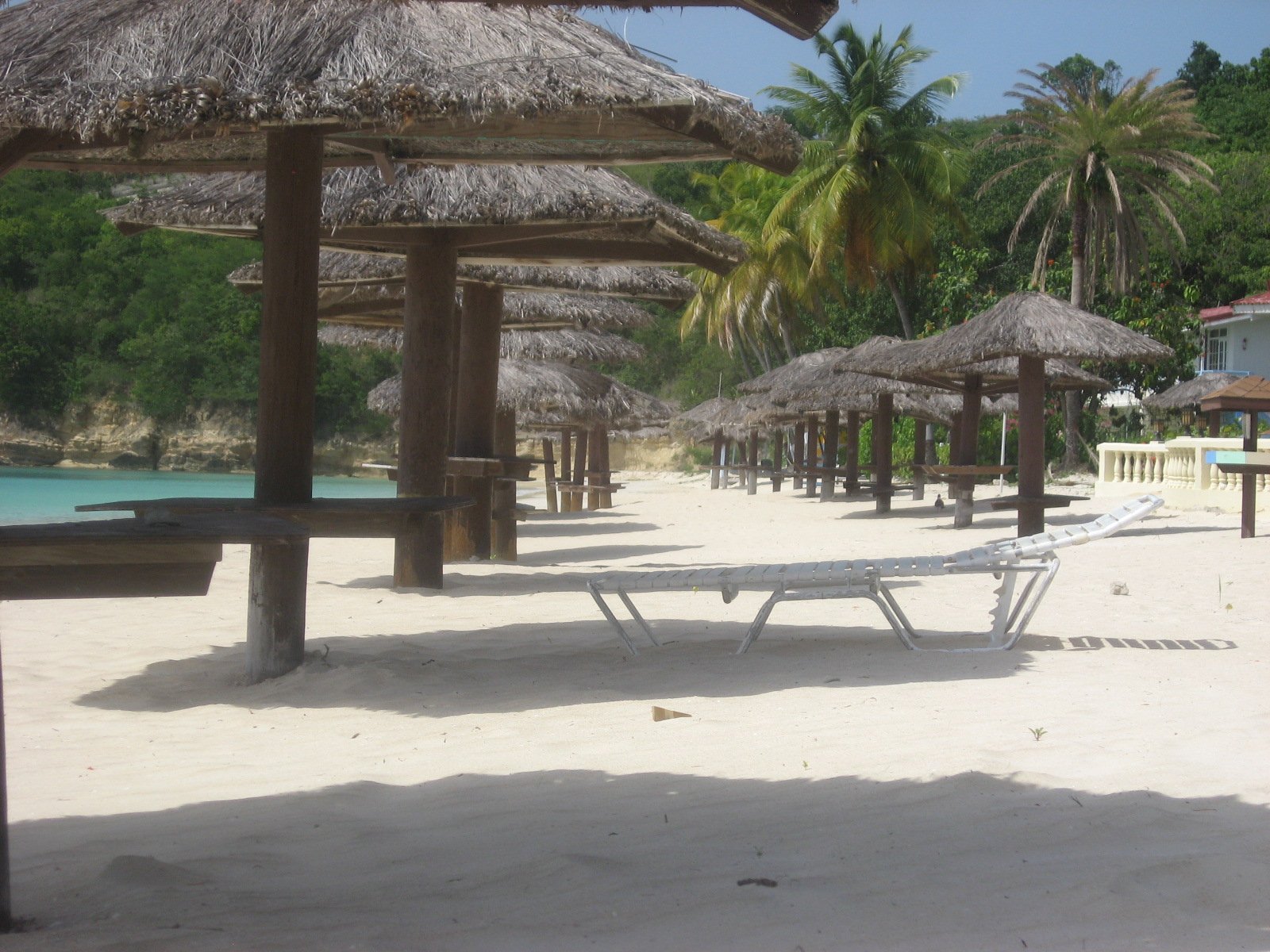 Sandals of course will have had their eyes on this spot for a long time and I hear they have now got it. If you have been here you will now about the white wall that is just about at waist height delineating the start of the resort grounds, small swing gates present entry to Dickenson Bay turn right and take the short walk to the end of the bay past the derelict 'Dive Shop' that was historic in that it was where big John started the scuba diving off in Antigua for tourists. I found out that no longer are the beach toys such as hobby cats are no longer included with the all inclusive deal.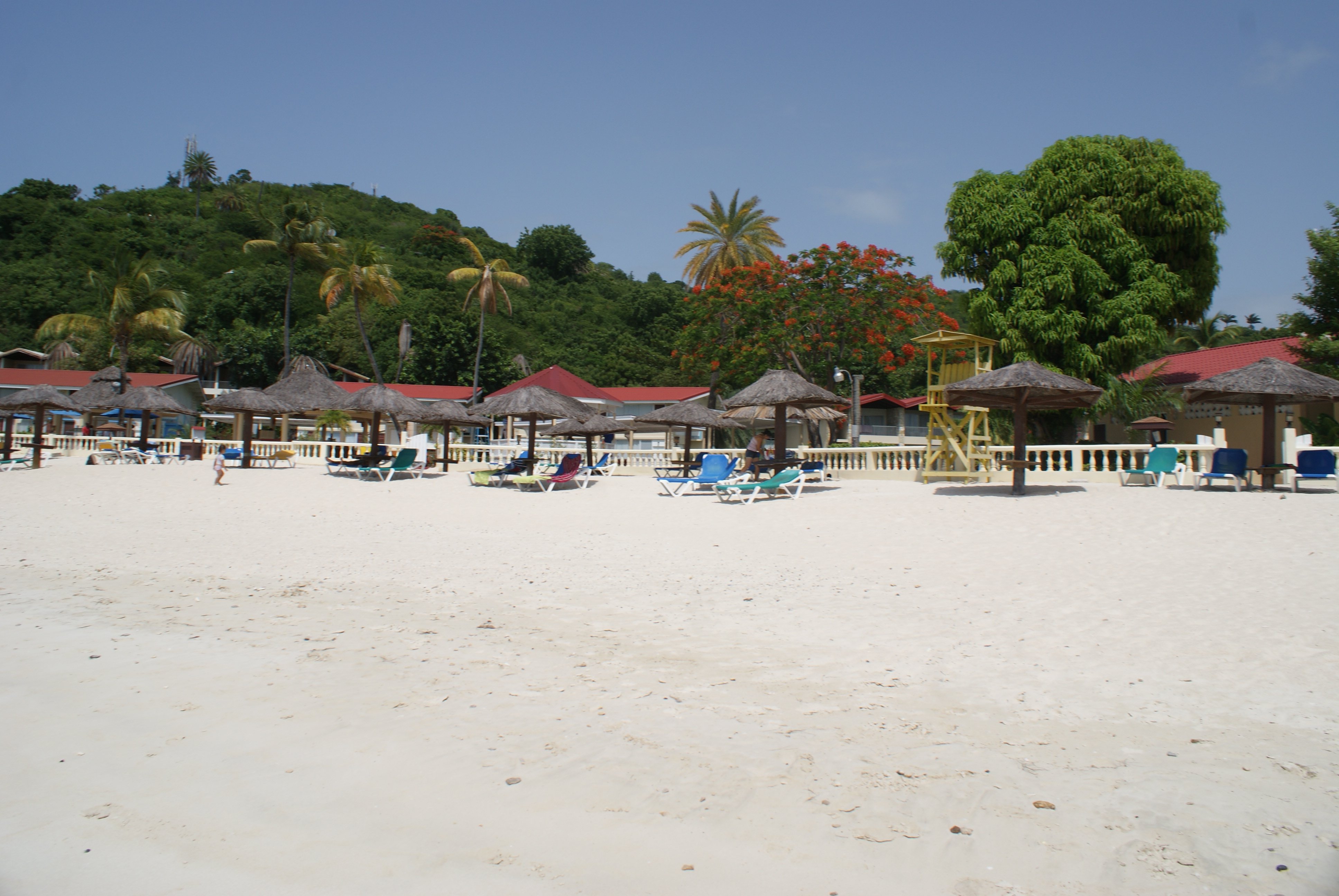 Dickenson Bay the Halcyon Rex Resort Antigua and that white wall.
The prices are not shocking but it has meant that the guys don't even go over and set them up as no one seems to do it anymore. The resort feels like it has decided it's fate. Walk to the end of the bay and sit for a while enjoying the serenity. If you are in a couple it is a very romantic spot its great for wedding photos down this end. I have fished down here before and it was a most pleasant experience catching nothing as always my equipment was borrowed from my vacation rental back then I blame the line. About this spot – because it is SO beautiful I am hoping that Sandals preserve what it is today. I do find it an incredible shame the country and tourism board are letting it be sold but also it was a constant shame that no renovations were made to the Halcyon Cove still if you were leasing it from the government with Sandals wanting to buy it would you ?
Cricket on the beach and Beach Volleyball
The afternoon saw more drinks interspersed with cricket on the beach and volleyball. I was only ever good at bowling from memory playing cricket at school but we used a tennis ball and a plastic set and the bounce on the sand as you can imagine very unpredictable. There were some youngsters and older like me playing and a mix in-between. One young girl did extremely well bowling to all our surprise but dad let it slip she was a pitcher back home for her baseball team.


Sanchia came on board for the Beach Volley and did well. We had a competitive team member or two but it was again a great way to play sport for the fun of it. Scoring was erratic to say the least and Fenton helped make it so much fun. I just love that in Antigua you can be non Politically Correct as I feel one should be able to be within reason of course. Fenton just comes out with some stuff at times it's priceless.
BBQ on the beach
After a day of laziness I had an overwhelming desire to go out in the Falmouth area the other side of the island and would try and book it up with Raymond. Dinner was a BBQ on the beach and I had some really nice ribs and fish I love my Tilapia. Tilapia average about the size of your palm and inhabit the brackish water found behind the mangroves in Antigua. You can catch them easily on worms but take bug spray in these areas as they are thick with mosquitoes. I don't know if they are easy to prepare or not. It's a really sweet tasting fish.
During the course of feeding I was organising our carriage to the south and Raymond was prompt at both ends of our round trip. Very entertaining too I recommend his use for your transport requirements. On the way he spotted that there were a lot of cars on the road at a point about 2 k out of Falmouth and he said we should try that place out. I was maybe going to try it but first wanted to show Sanchia Falmouth by night with the big boats and parties. It was decidedly flat considering how much it can get going down here and this party was pulling the people away from the centre. We started at this Sushi restaurant where the views to the boats was great and a breeze was blowing through. It was a privilege indeed. We then headed to the mad mongoose crossroads and listened to live music next door in the Lime Lounge – this place would normally be a lot more busy. The band were playing and we could have stayed here and enjoyed the evening but I hadn't planned and come so far for mediocrity. Abracadabra just up the street will tell us if the party is pulling all the people away from Falmouth. The guy at the door of abracadabra let us in as they needed people but we stayed for just one drink as it was quite empty, we did have a nice dance though. At this point we had decided to get a cab to that party. The cab dropped us at the top of the road and we had to walk down the driveway there were cars parked everywhere, when you see this in Antigua it is usually worth stopping and joining in the party. Perhaps we could have done this on passing earlier but I wanted San to see the boats by night and experience a 'normal' Falmouth nightlife which wasn't to be.
As we walked down the drive I got a knock at the back door something needed to shift and was not going to take no for an answer – damn that bloody shower water had been making me go to the toilet all day and it had picked the most worst time…We hadn't even arrived were there toilets…I started scanning for a quiet corner this could have been me on a future youtube viral video sensation…You know when something is of such importance that your brain gets very efficient and non caring for example taking the time to be regularly polite. I am a believer in Maslow's Pyramid and I figured I was low down it.
My phone was getting very low on credit but I could be reached by Raymond – thank god he somehow saw I was trying to connect with him and he called me. We picked a time for pickup at the full moon party. Within my situation there was a local youth being ejected from the party but I was in need of a toilet and grace of the toilet god's right there not far in was it. Not just that but the timing was not so bad a small wait. And what was that on the side ? A roll of paper – you're coming with me – I managed to cramp back the nile and it was my turn. Guys were peeing of course and previous to my turn 2 had been sharing the bowl – how efficient and cool they were 😉 my gain. With no intention of keeping up the efficiency of two in I stole in and bolted the door. I was left with the complaints that were sure to come as a longer than normal time passed – what would I say on leaving…I felt the truth was needed.
We had a fun time for the rest of the evening and Raymond was entertaining on the way home – he was bang on time my credit with LIME dead as.
We were dead proud to have entered back in at 3am and felt in fine state of course – Antigua has been good to us.