Tip: Taxis Vs Renting a Car in Antigua – Renting a car wins!
One of the main drawbacks of an Antigua vacation is the cost of Taxis. Gasoline isn't particularly expensive in Antigua. So why then are taxis quite expensive? Firstly the term expensive is relative- they are expensive in terms of if you will be dependent for a week on them. They fix their pricing and operate a system so they don't ever barter each other down.
Airport Taxi Prices Antigua
Know the price on arrival at the airport in advance by downloading the fares this way you negotiate on strong terms of knowing the actual price! If you would like a private transfer that can work out the cheapest for small groups then we recommend you use our private van drivers giving airport transfers on our parent website – Antigua Airport Taxi.
Renting a car for a week doing a lot of driving expect to pay about $100 ECD (approx $37USD) in fuel. So you can see from the board here at the Halcyon Cove shows the high prices of Taxis but renting a car offers savings to be made. Going to (and returning) the 1st Choice supermarket just up the road is $20 USD as an example.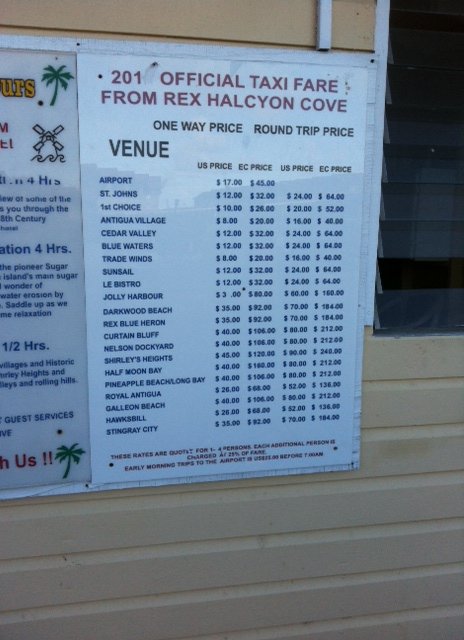 The sad thing is that what happens is the following:
Tourists stay in resort more, depriving Antiguans of their ability to make from tourism.
Taxi drivers work less and possibly earn the same (I'm guessing the government win more though)
The tourist sees less of Antigua and enjoys the holiday differently – they might as well be in a Cuban or Dominican Republic resort at half the cost.
Our recommendation is to take a rental car from a reliable company, see more on that here.
Taking the bus in Antigua
Local Antiguan minivans cost a fraction of the price and can be hailed from the side of the main roads, expect to pay just a few ECD but you will be in hot cramped spaces and have to wait sometimes a good 40 minutes. There are some routes that are better than others the route from Jolly Harbour is good into St John's as an example.
If you liked this article you might be interested in these related articles
Getting Around Antigua
Driving in Antigua