Tip: Taxis Vs Renting a Car in Antigua – Renting a car wins!
One of the main drawbacks of an Antigua vacation is the cost of Taxis. Gasoline isn't particularly expensive in Antigua. So why then are taxis quite expensive? Firstly the term expensive is relative- they are expensive in terms of if you will be dependent for a week on them. They fix their pricing and operate a system so they don't ever barter each other down. Read about Renting a car in Antigua here.
Airport Taxi Prices Antigua
Know the price on arrival at the airport in advance by downloading the fares this way you negotiate on strong terms of knowing the actual price!
Despite what you may read on Facebook groups or in forums you will get a shared taxi from the official desk unless you are VERY lucky and no one else is going in that direction. And there are always clusters of resorts so it is unlikely.
If you would like a private transfer that can work out the cheapest for small groups then we recommend you use a private van service giving airport transfers on our parent website as a reputable and well-reviewed service – Antigua Airport Transfers & Taxi. Reviews here.
Renting a car for a week doing a lot of driving expect to pay about $100 ECD (approx. $37USD) in fuel. So you can see from the board here at the Halcyon Cove (sadly no longer in existence) shows the high prices of Taxis but renting a car offers savings to be made. Going to (and returning) the 1st Choice supermarket just up the road is $20 USD for example ($10+$10).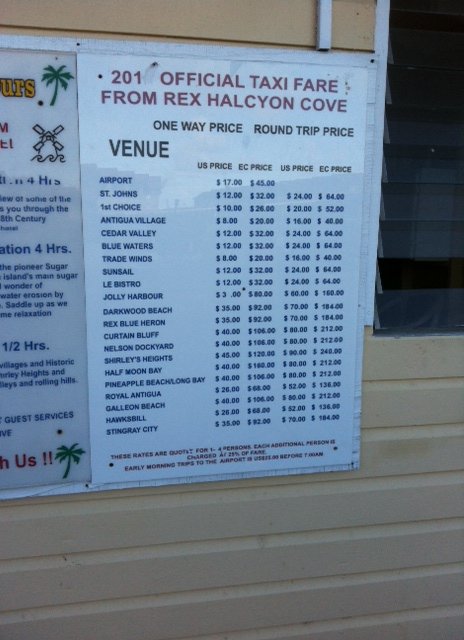 The sad thing is that what happens is the following:
Tourists stay in resorts more, depriving Antiguans of their ability to make from tourism.
Taxi drivers work less and possibly earn the same (I'm guessing the government win more though)
The tourist sees less of Antigua and enjoys the holiday differently – they might as well be in a Cuban or Dominican Republic resort at half the cost.
Our recommendation (if you want to economize) is to take a rental car from a reliable company. Just get extra insurance to give you full coverage. Antigua car rental insurance is only ever 3rd party and your liability will be around $2500 for a basic car but much more for a nice big Jeep. If you want peace of mind and have the money just organize a taxi from Best Antigua- you can do it via WhatsApp via wifi get picked up and go.
Taking the bus in Antigua
Local Antiguan minivans cost a fraction of the price and can be hailed from the side of the main roads, expect to pay just a few ECD but you will be in hot cramped spaces and have to wait sometimes a good 40 minutes. There are some routes that are better than others the route from Jolly Harbour is good into St John's is an example.
Booking a transfer with British Airways to ANY resort in 2023
Look how expensive it is to get a private transfer booking through your airline as a bundle!
TIP: Book with Best Antigua for the best private rates and service especially good for groups.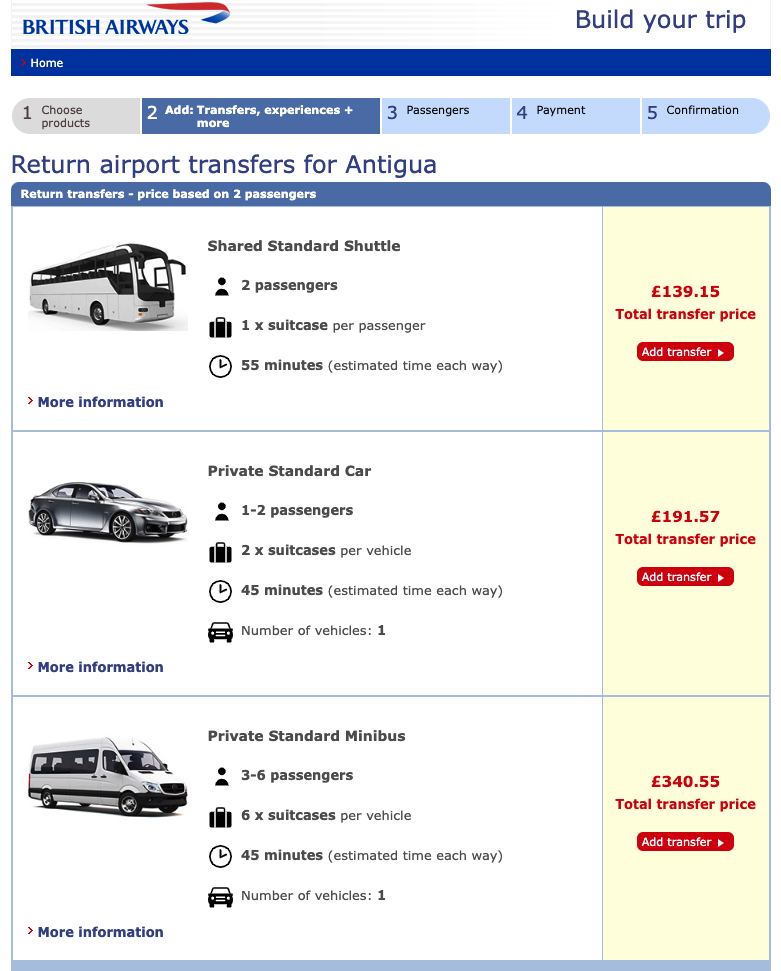 If you liked this article you might be interested in these related articles
Getting Around Antigua
Driving in Antigua
Who am I?
I have been visiting and living on Antigua for around 15 years now. It's 2023! Wow where did the time go. I started to blog on the beaches and island's best things to see and do. I love to hear from you if you read my posts so please do leave a comment below. Here in this picture you will find me Rachel and Rocky. He runs the Liquor store with the best discount. Just go in and mention BESTANTIGUA and he will find some discount for you!
Thank you- if you got some value please post this link in your Facebook groups or Trip Advisor posts to help me continue.