How many beaches does Antigua have? What & Where Are The Top Beaches?
You may have heard that Antigua has more than 365 beaches, one for every day of the year. That is a list we want to see. Even if it's folklore it's impressive as they clearly have a lot. We show you here some of the most beautiful beaches in Antigua.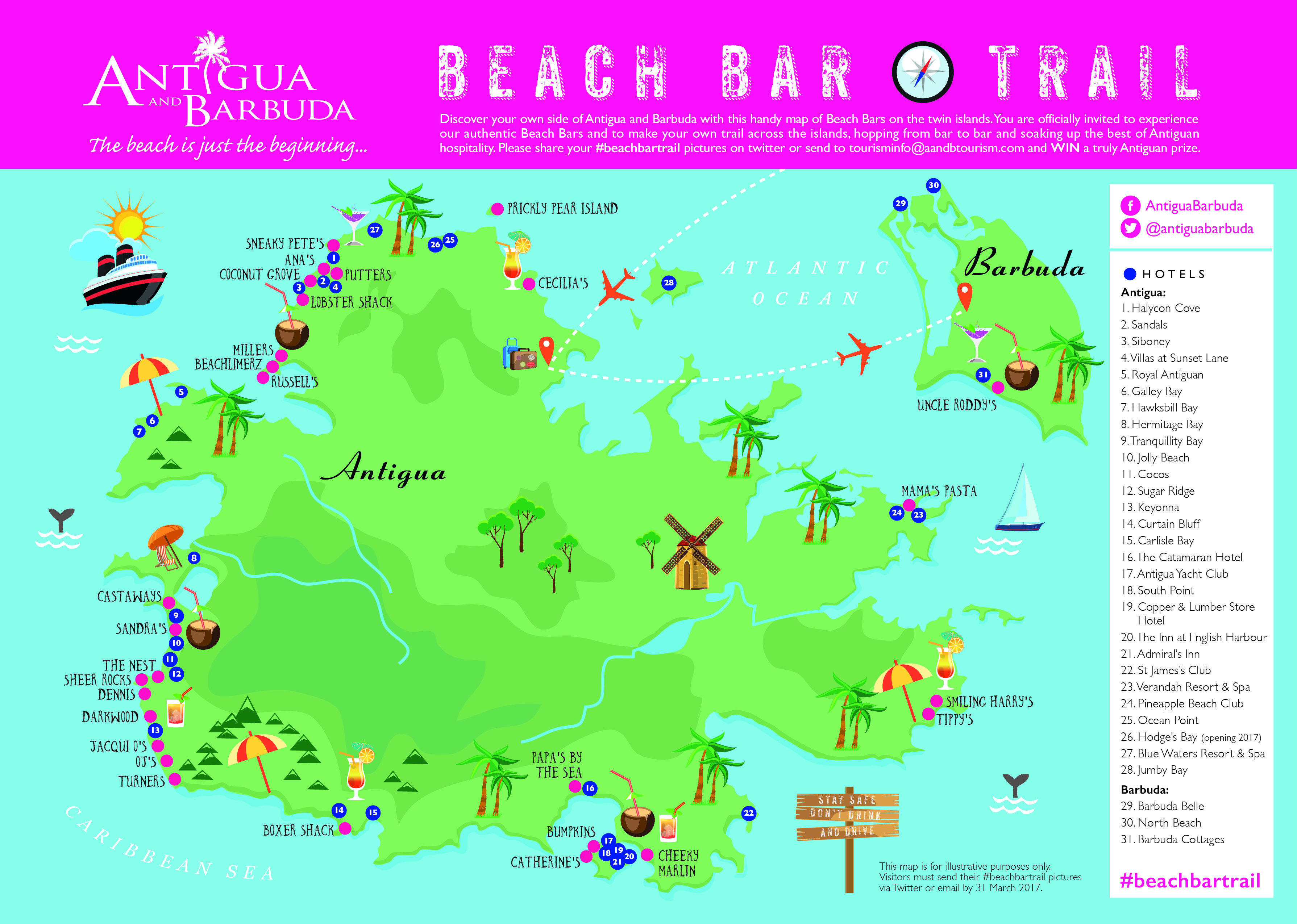 What are the Best Beaches in Antigua? What beaches do we LOVE?
Depending on what you are looking for in your ideal Antigua Beach, chances are Antigua has it covered. There is no surfing here unlike in Barbados, yet you can have a lot of fun in the waves at half moon bay for example. The waters are mostly pretty calm (some storms at sea can create waves on certain days. Please take reasonable care on the day) the calmest beach is maybe Pigeon beach.
Beaches For Snorkeling
The best beaches of Antigua for snorkeling are Pigeon beach and Galleon Beach and the far end of Dickenson Bay. Antigua is a very sandy island so it is very hard to find non stirred up bottoms! The sand causes less than perfect visibility. If you can go around to the pillars of hercules it's also a great spot and an actual dive site. There is always Cades reef but you will need a tour to get out to it.
Antigua Beach Map
Here is a link to download the Antigua Beach Map
Ffryes Beach
Ffryes beach took some finding and it is just outside of the Jolly Harbour area before Darkwood beach.
For a guide to snorkeling on Antigua and the best places.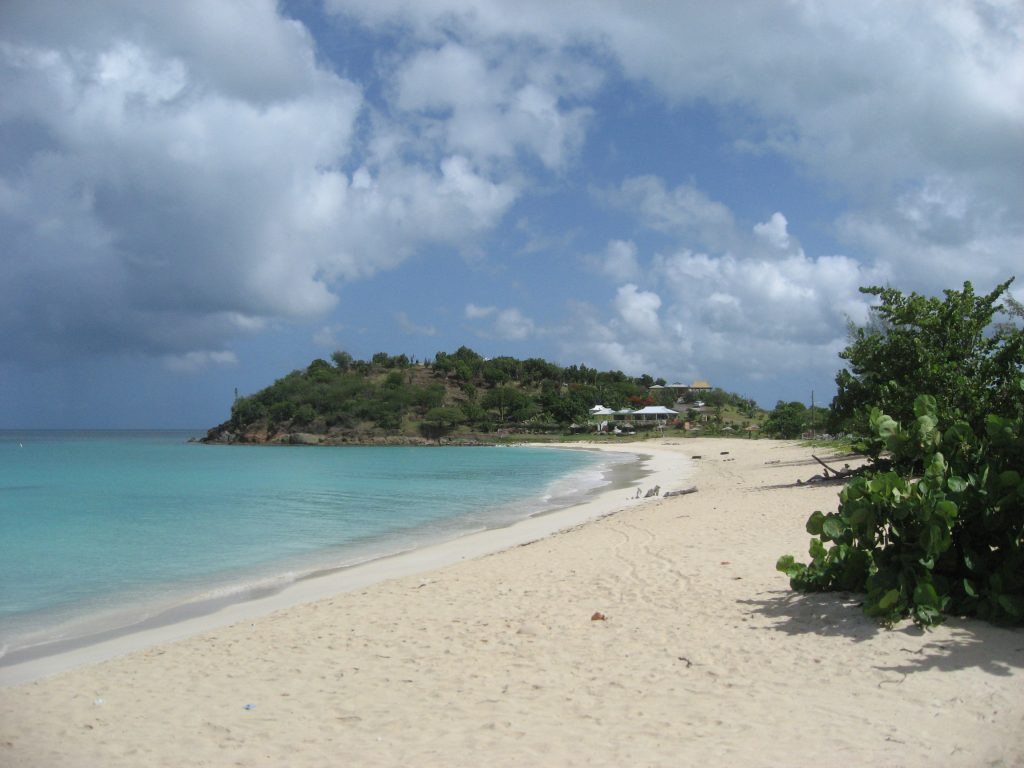 Ffryes Beach has some limited shade up towards Dennis restaurant and cocktail bar at the northern end.
Darkwood Beach (My Favourite Antigua Beach)

This beach is seen from the road as you climb up Fig Tree Drive. It makes part of this drive so memorable. The restaurant right on the beach is not the best but it has a good location and if you are not in a rush (without a toddler) then you may find it ok. You can rent loungers and shade with a bucket of 5 Caribs for 25 USD on cruise ship day. It doesn't see as many cruise ship passengers as some of the 'Restaurant Beach' spots maybe not be highly marketed by the cruise ships – that's great news for you!
https://www.youtube.com/watch?v=R8ekB2DHXTM
If you want to stay on this beach in the luxury villas at the end then you can find out more about Tamarind Hills Villas here.
Top cruise ship beach experiences tailored to fit your cruise needs.
Build your own beach excursion !
From the recommendations you have learned about now tailor your ideal Antigua day. CLICK NOW !
FFryes beach excursion with the
Beach EXPRESS
van service.
We can offer you a tour of the island AND one of the beaches of Antigua, ask us with for details. You will get a more private experience with your party and also get to visit the best parts and attractions that Antigua has to offer. This is not just for the cruise ship visitor.
————————————————-
South Beach and Jolly Beach – Antigua
For many people this is the best beach in Antigua – It is very good no doubt but read on to discover why it isn't my top beach though it may be my 5th favourite!
You may be wondering how these beaches are accessible but just drive into the Jolly Harbour complex and head towards Popup beach bar where you can park for free and get the amenities there is my advice if you are not staying in Jolly Harbour.
South Beach is slightly better but the guys working the Antigua beaches need a couple of days of getting the message before it becomes the very relaxing place it can be. And this should not put you off from a vacation rental in Jolly Harbour. You can get food and drinks here from Castaways – the food is very good better than the restaurant itself. But the location is perfect. You are free to drive through Jolly Harbour and enjoy the beach say that you are frequenting Castaways.
You can get all the usual jet-ski and Hobie cat rentals here as well as the loungers and umbrella. Many Jolly Harbours Holiday Rental Apartments have the agreement that you can get these for free if you stay in their place. It's somehow worked out. It is a great place to meet your neighbours for a week or two or ex-pats alike as you drink your rum punch in the nicest water you can imagine. I used to swim the whole length of the two beaches on a good day but be careful of the jetskis.
If you have been tempted by some of these beaches then put yourself there with an all-inclusive deal – WHY NOT? You only live once and Antigua should be a destination that you visit at least once in your life.
Don't forget your Antigua Holiday Essentials!
Half Moon Bay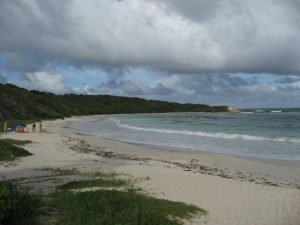 It doesn't have much shade as it's very natural but there is a snack shop and it wasn't busy the Sunday we were there. It was harder to enjoy this beach with my 2-year-old due to the lack of shade and the waves but if I was on my own I would love the roughness and the beauty of this spot. It is great for bodyboarding fun!
In high season or on busy cruise ship days you may find umbrella rental guys and get your shade.
Ok so let's pick 2 great Antigua beaches if you are with the kids – Pigeon Beach and Dickenson Bay are top of my list. Jolly Beach and South Beach don't come as close but on any other island you would call these fantastic beaches and this is the quality that Antigua beaches have to offer.
Pigeon beach
Pigeon Beach has some facilities (closed sometimes though) and a restaurant and even a decent playground and it offers a most brilliant quality of sand (not too fine not too coarse) and the gradient is perfect. There are few waves but enough to give you the sound of a beach. It is popular with families and locals and expats alike. You can meet people from all walks of life here. You might find some dog poo if I search for a negative and there are no vendors to speak of nor cruise ship visitors – no ability to rent a bed etc..yes its GREAAAAAAAT! Oh yes no annoying watersport guy toys like jet skis, don't get me wrong they have their place out at sea not close to shore where yearly they kill people.
Aerial Video of Pigeon Beach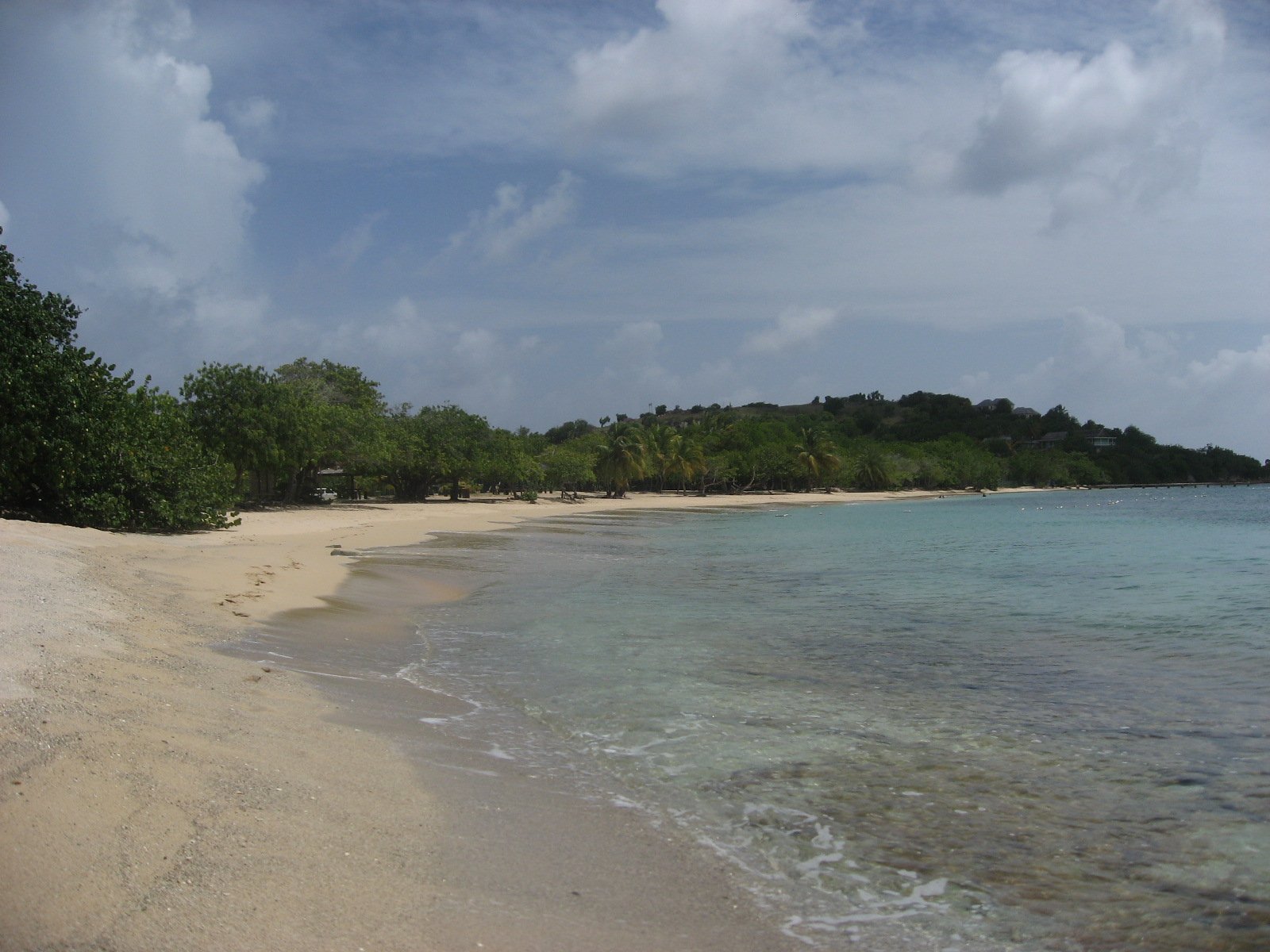 Read More and a couple more photos for Pigeon Beach here.
Dickenson Bay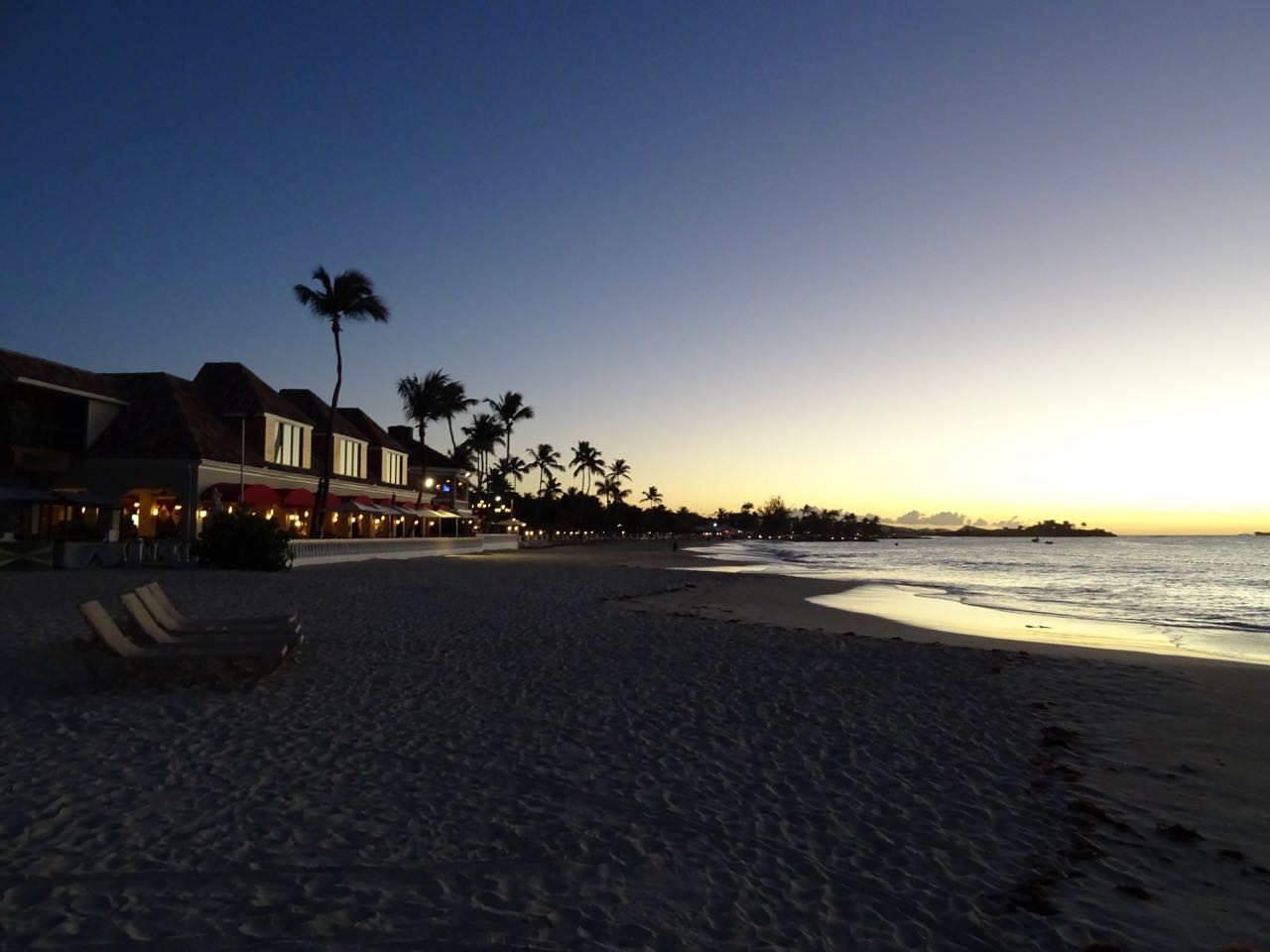 Dickenson Bay is a public beach like every single one of Antigua and Barbuda's beaches. Many people are seen to be asking as the resorts can make it appear like they are private.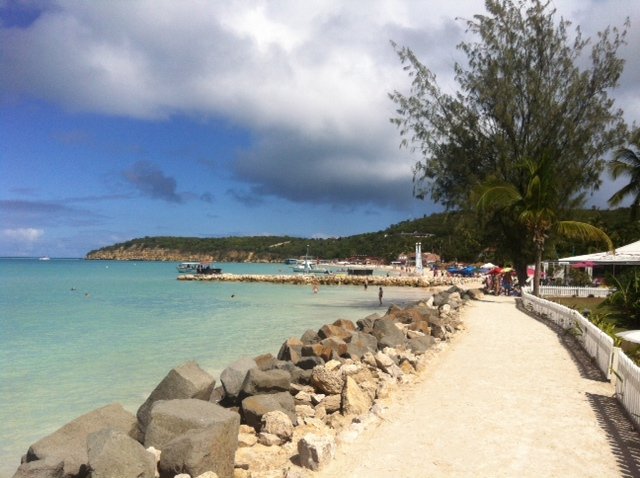 Never worry, this is one of Antigua's best moves in making these public spaces- for the public. Access is the only thing that could limit your visiting any beach in Antigua and Barbuda. I wish other countries would do the same. Anyway back to why this beach is excellent (watersports are available and this comes at the jetski price) – it is in a beautiful setting and you may find your resort here like Sandals Grande Antigua or the Halcyon Cove Rex Resort. Check out the aerial video of this resort and beach area.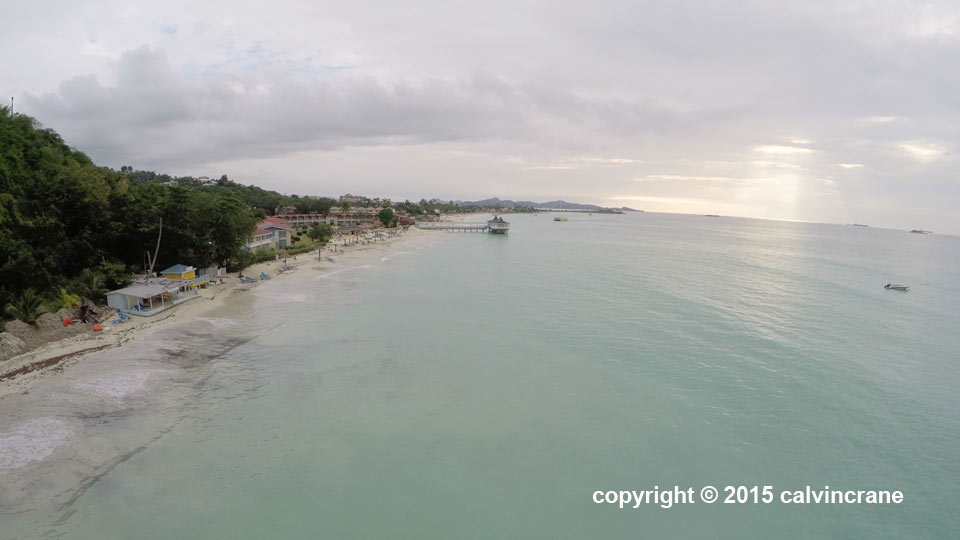 There are some other options to stay on this beach unlike pigeon beach – which does have some places to rent close by. The Warri Pier restaurant is a great place to dine get a table on the seaside edge and watch the snook (fish) play with the little fish under the lights and bats fly around in a non harassing way. It's a real treat for me to dine here and be part of Halcyon Cove if you are staying there you will be dining here normally for at least some evenings. I can't see how the resort can stop you from resting under the shade of their wooden umbrellas since the beach is public. You can't buy land on the beach and if you make an umbrella on the beach I am of the opinion that it becomes a part of the public domain.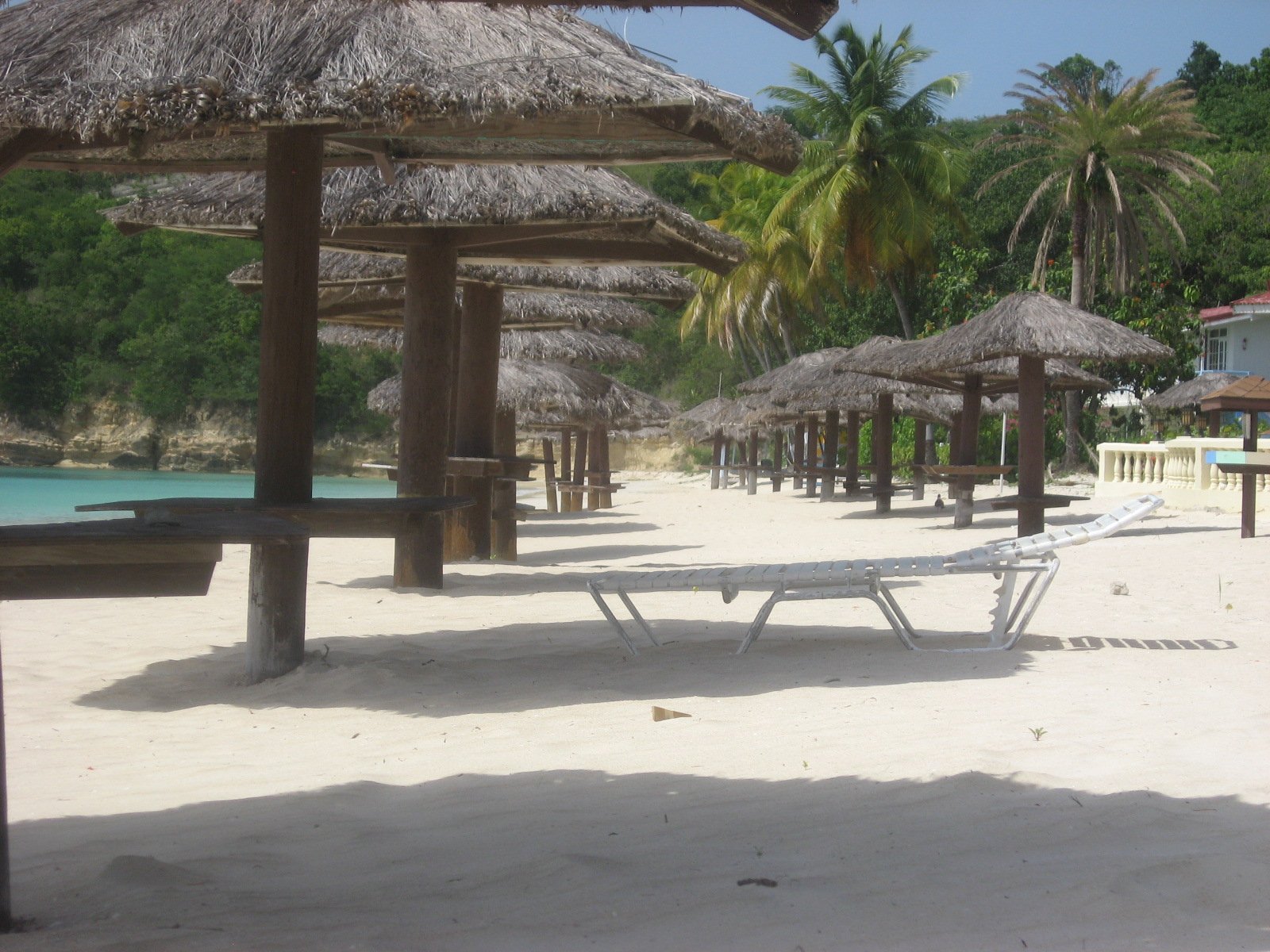 Some other great beaches in Antigua
Long Bay Beach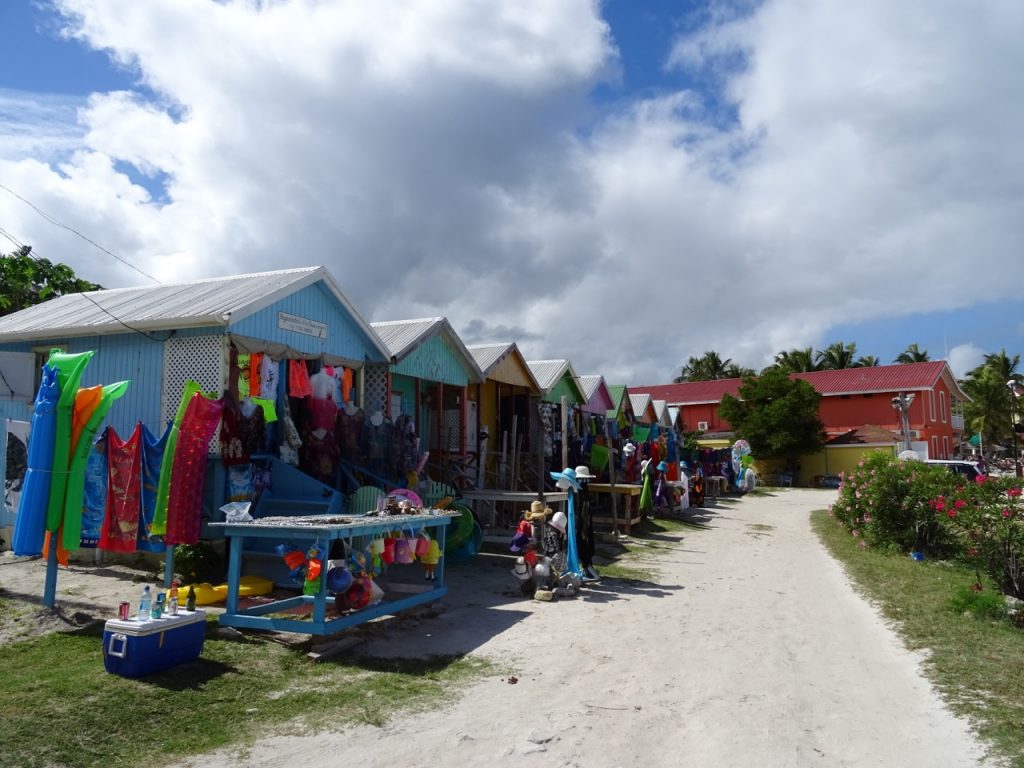 This is really excellent if you are considering a cruise visit because of the amenities there. It is a very fine white sand and very calm. There are great shopping opportunities with a row of tasteful shops and great food nearby. Long Bay Beach (aka Long Beach) is home to the Pineapple Beach Club an all-inclusive resort catering to the middle of the market. Long Beach runs east-west and is located on the eastern side of Antigua but is naturally sheltered so is very calm.
Fort Bay aka Fort James Beach
Features – fresh water showers, restaurant/bar **close to cruise ship**
Dislikes – The horses (available for photos or riding) don't look well looked after to me.
If you are looking for the closest best beach to St John's where the cruise ships dock this is it! You can grab a taxi from the cruise ship dock for $12-$15 dollars roughly. If you are a group it becomes sensible to look at a beach transfer van.
Follow the road down to Fort James and keep heading for the coast and you will find Millers beach bar and this wonderful beach. Popular with cruise ships that day due to the proximity of the dock. Millers is no longer the great great place it was but it is still a nice place to eat and get showered off and rent your beach equipment from. The beach is beautiful and the water as most always is a beautiful shade of blue. Wander up to the fort if you start to get restless or find some people to play volleyball with.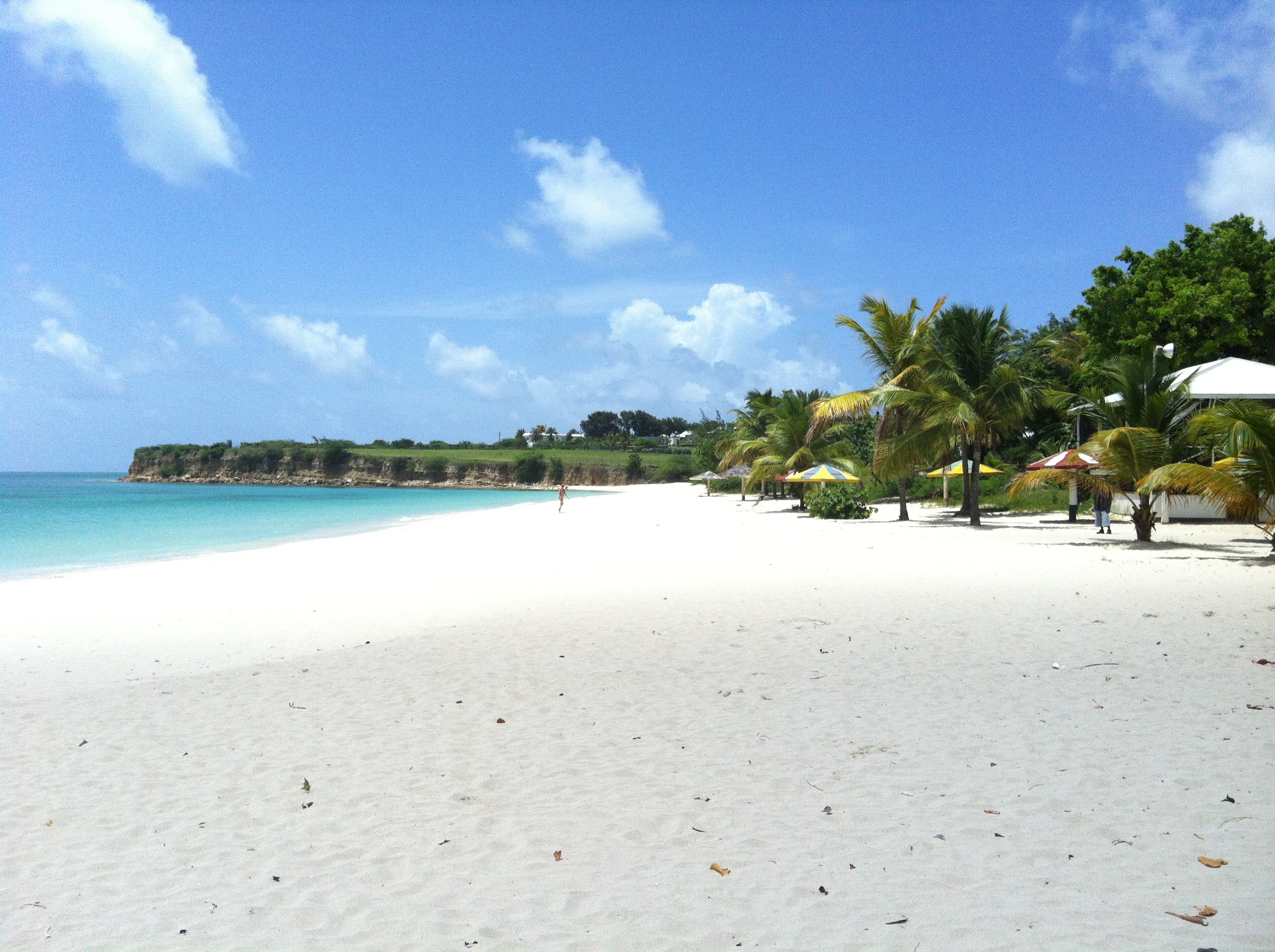 So there we have 4 top beaches to visit in order of greatness – Pigeon Beach, Dickenson Bay, Half Moon Bay and Fort Bay. As we always travel with my daughter (2) who doesn't like me in the water without her, I have to give snorkelling a miss. However, I have not seen much evidence that the beaches here are good for that. Good sand beaches tend not to give good snorkelling unless they get close to a rocky point. I have snorkelled Dickenson Bay at the northern Halcyon Cove end and this would be considered good.
Galleon Beach
Galleon Beach is the beach you can see from Shirley Heights but it simply isn't as good as Pigeon Beach.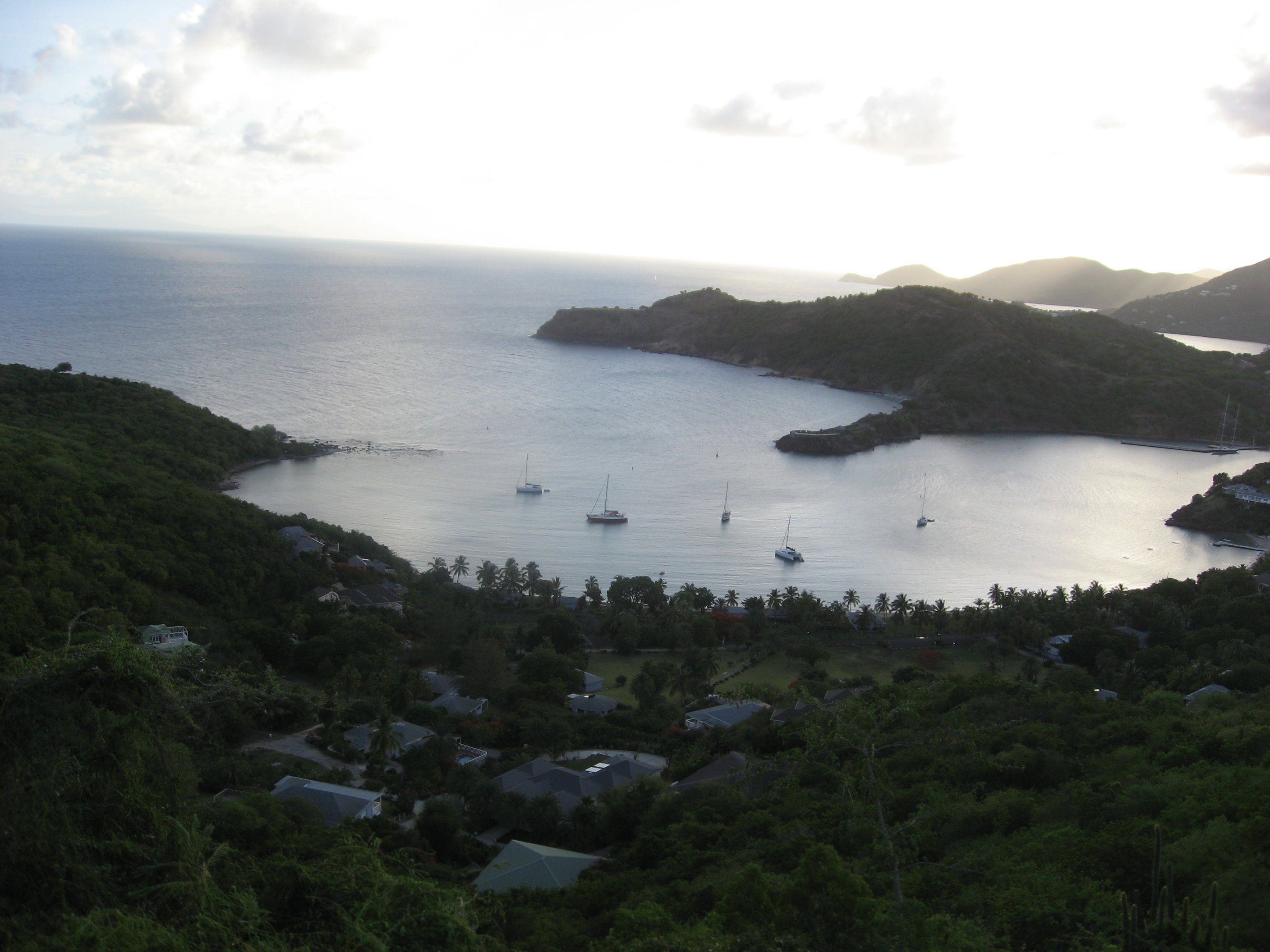 Turners Beach
Turners Beach is set up a little more to deal with the influx of cruise ship visitors which it gets more seemingly than Darkwood – there is a big restaurant on site that offers shade and comfort and stalls selling Antigua gifts and souvenirs. It's again a lovely beach but I would not pick it knowing what I do as an Antigua insider – having said that you won't be disappointed in the beach.
Turners Beach – A cruise ship destination make sure to avoid it on a cruise ship day. Outside of that shame about dog poop as the beach is quite nice and an opportunity for shade. Gets a bit busier than normal with some tour groups getting deposited here. Turners were slow service but very clean and new. Quite a few vendors are here.
Valley Church Beach and the Nest Restaurant
This is a picturesque beach with a mid-sized restaurant quite famous on the 'Best Beach' and cruise ship circuit called The Nest. Follow the sign for the nest to get to the beach. You can get here (and Jolly Harbour or FFryes, Darkwood) from your cruise ship by getting to the bus station in St John's and asking for the right van (local bus) it's a very inexpensive way to experience Antigua. The Nest has been living off its flow of passengers you feel and could use some reinvestment in some areas but it's fine!
Galley Bay
(Not to be confused with Galleon Beach)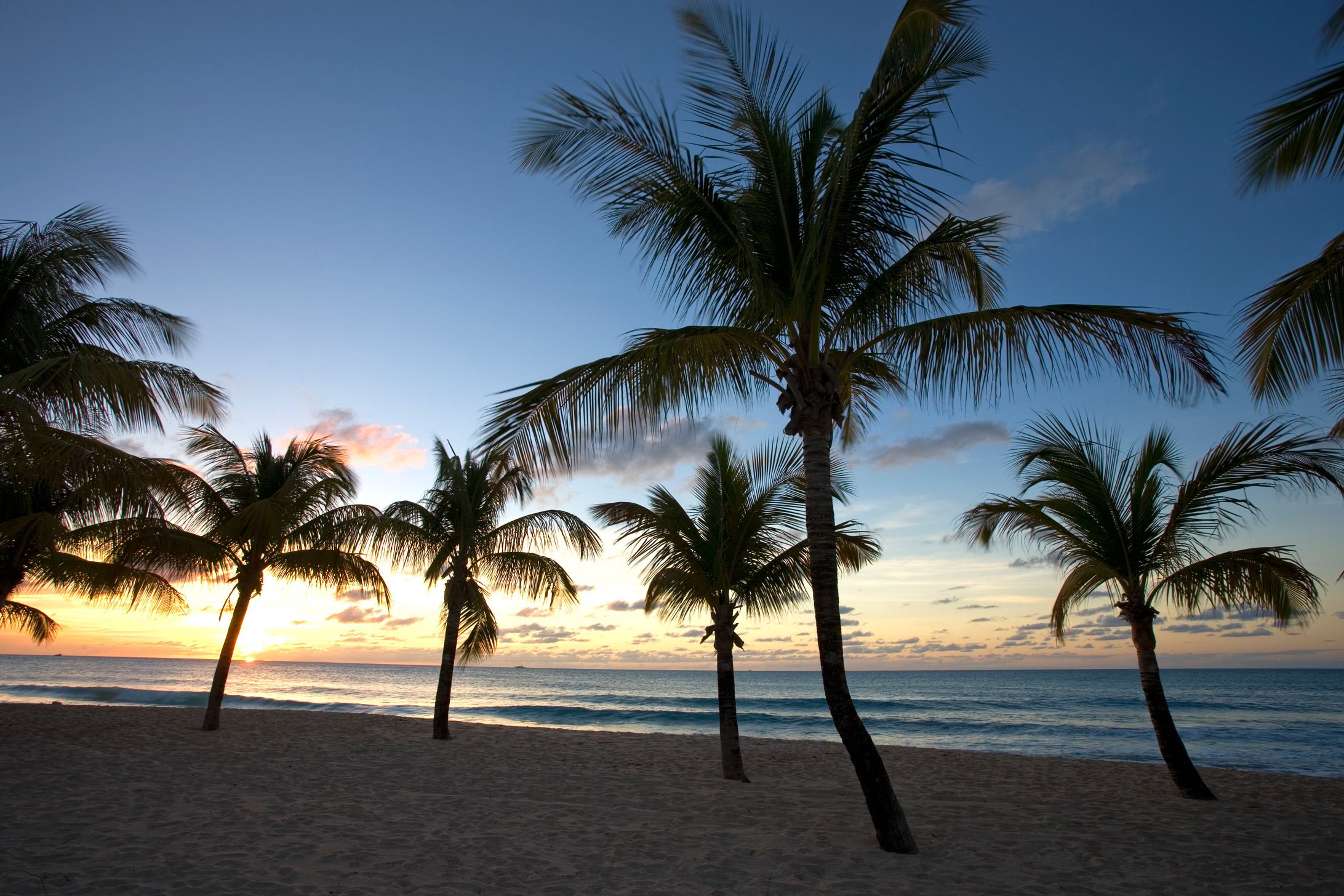 Located west of Antigua just near Five Islands and best served by the upscale resort of the same name (Galley Bay Resort and Spa) is a contender for the award of Antigua's best beach. If you have the coin it's easy just find the best deal for the Galley Bay Resort and ENJOY!
Wow, you got to the end! Thank you for taking the journey with us.
Other beaches of note that we didn't blog about here but you can search >>
Rendezvous Bay Beach
Runaway Beach
Eden Beach
Hawksbill Beach
Here are some related things of interest to enhance your Antigua Beach stay.
Are you a CRUISE SHIP VISITOR? Beach tour details can be found on our Antigua Beach Tours page.
Further Reading on Antigua Beaches