We really DO beat the prices offered by the bigger web players so check us out for the best antigua airport transfers.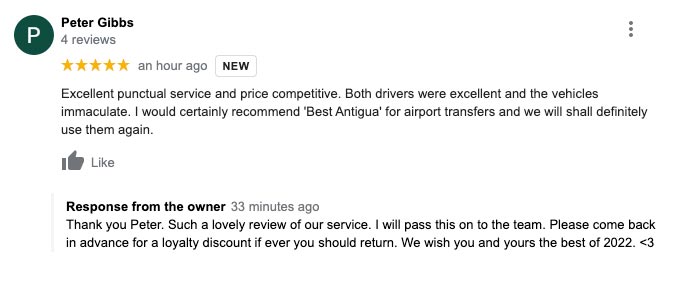 Organising your airport transfer in Antigua is something you really should do before arrival. Get organised and be ready to enjoy your holiday. The best price for a private transfer is here!
Please email using the form below.
To the furthest resorts like Pineapple Beach Club or Nonsuch Bay you will pay a lot one way if you go by regular taxi, and come to think of it even for airport transfers to Jolly Beach Resort or Halcyon Rex. If you see the quotations from the global transfer websites (sites serving the world) they are more expensive by a good amount. Go ahead and check your price with them but remember to come back!
Antigua Airport (ANU)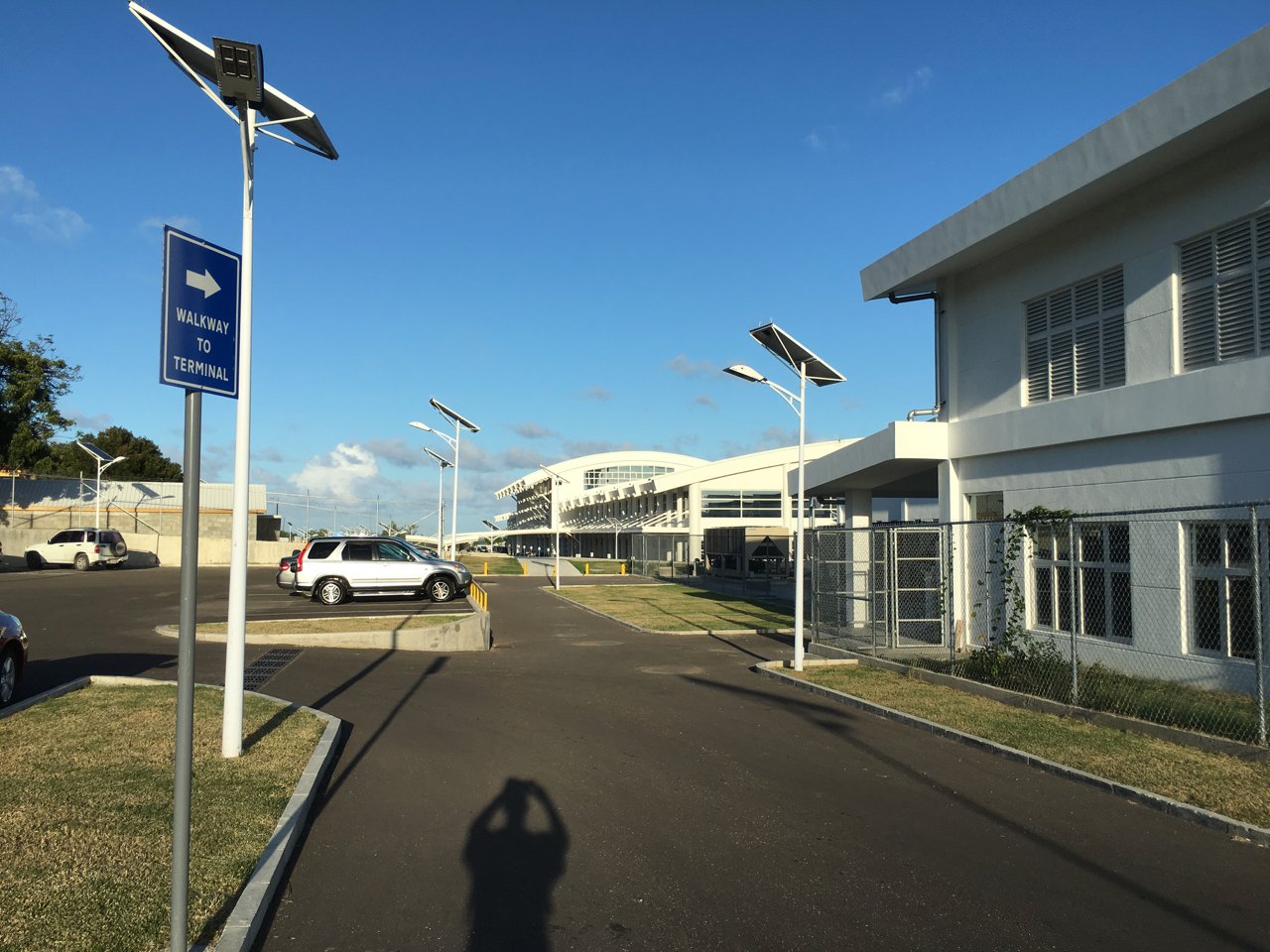 Book Online with Best Antigua
We can offer a better more personal service than the official taxi stand. Please allow us to quote you; give us your dates of arrival and departure and your resort or villa. You will also at time of transfer be directly in touch with our knowledgeable guide who can remain at your service during your stay. Further advantages such as being relaxed about stopping to buy immediate supplies can be a real benefit.
Customer testimonials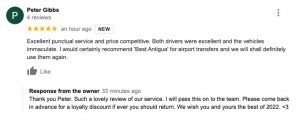 "We had a great experience with Best Antigua. We booked an airport transfer and a last minute transfer to a boat tour. All of the transfers were on time. The drivers were so friendly and helpful. Calvin responded to all queries really quickly and organised everything seamlessly. I will definitely use this company again when I return to Antigua."
– Hannah W UK 2021 review via Google reviews
"Just returned from a fantastic holiday in Long Bay Antigua. This was our first trip to the island and we were lucky to choose the guys at Best Antigua (https://bestantigua.com) for our transportation. Excellent service from beginning to end and far more competitive than the other transport firms we looked at. From first contact to last they were helpful, timely and informative, we were collected and delivered back to the airport comfortably and on time. Lennox our driver offered interesting information about the island and can arrange tours and car hire etc. if needed.
We would definitely recommend these guys and will use again when we return.

Many thanks to Calvin & Lennox for helping us settle in and feel at home.
"Mark, Natalie & Charlie."
"For our second visit to Antigua we booked transfers to the Verandah Resort via the 'Best of Antigua' website.
Driver Raymond duly recognised us on arrival and 30 minutes later we were enjoying the customary welcome rum punch at the resort.
Raymond offered his services during our stay but we decided to generally stay in the resort as we had already visited most of the local attractions.
Prior to our departure Raymond made contact to confirm pick up.details etc and the journey back to the airport was duly completed. Safe driving, good conversation and a totally reliable service.
If we come back to Antigua we would have no hesitation in booking Raymond's services through 'Best of Antigua' – after all, everybody loves Raymond!
Thanks again and best wishes.
Adrian and Helen."
Enquire now and get that part of the holiday organised! If you are not able to see a form below then click contact us and ask us to book arrange your quotation.
This is a typical Antigua airport taxi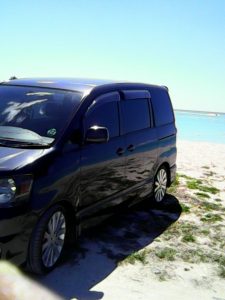 As an example see airport transfer prices ROUNDTRIP (USD) based on a couple sharing:
Airport to Jolly Beach, Cocos or Coco Bay 70.00
Airport to Rex Hawksbill Resort 70.00
Airport to St James Club 80.00
Airport to Pineapple Beach Club 75.00
Airport to Rex Halcyon 50.00
Airport to Admiral Inn , Galley Bay 80.00
EAOE
Book Now – use our contact form and get in touch. We use PayPal to secure your online safety and money. Alternatively book online at our sister website Best Antigua Transfers
Antigua drivers are cheerful souls but they don't find it easy to use things like paypal and online banking. It is very hard for us to pay them so we get you to do that on arrival and on the return (50/50)..
Why can we beat the Official Taxis ?
There is a syndicate in operation that many professional drivers are excluded from. This doesn't mean they are no less professional in any way but the costs and difficulties to join mean these drivers prefer to not be a part of that. They do lose out from the markets the syndicated drivers operate in. But your advantage is getting to know a good driver who is not on the list and doesn't have the excessive overheads.
So to get the best price fill out the resort and dates above and click send.
---
Other Notes on Transfers and Taxis
There is evidence to suggest that official taxis are asking increased rates than those set out online unless you barter them down ! Here is a big tip. If you plan on arriving and taking a TAXI you must download the official rates from this page and show the driver – you will then be able to negotiate easier. It is so interesting that writer Jamaica Kincaid early on in A Small Place mentions that the Taxi Driver tried to do this exact thing. Taxi Drivers!