For most visitors to Antigua one of the prime attractions is the sea: with beautiful water that ranges from aqua blue to crystal clear with a wide range of unique and interesting marine wildlife, it's something not to be missed! There are lots of water based tours available, but of course we don't want you combing through dozens of options hoping and praying that you pick the right one. Here are our top 5 picks for water based tours for Antigua and Barbuda
Eli's Eco Tours

If you're looking to get a "greener" view of what the sea and offshore islands of Antigua have to offer, then Eli's Eco Tour is the tour for you. The Eco Tour, led by Antiguan local and former Olympian Eli Fuller, takes visitors on a tour that highlights the ecology and history of the North Sound, one of the most beautiful and pristine marine areas in the country. The main stop is Great Bird Island, which is a haven for a diverse number of species of birds such as the Tropic Birds, Ospreys, and Terns. It is also home to the docile Antiguan Racer Snake, one of the rarest snakes in the world. Great Bird Island also serves as a snorkeling stop as you explore the nearby reef for turtles, eagle rays, stingrays, and a number of beautiful tropical fish.
WCT Tours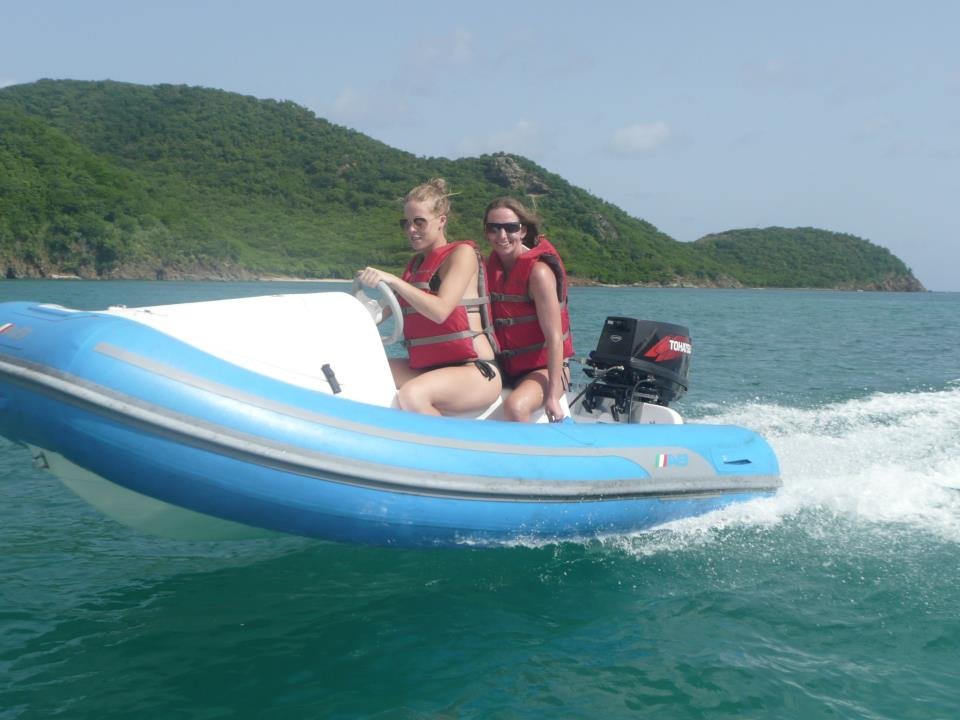 West Coast Tours is an innovative tour that literally puts you in the driver's seat as you explore the west coast of Antigua. The WCT Tour is a self-driving tour where you drive your own small inflatable boat around the coast and into some of the most pristine marine areas in Antigua. The main stop for the tour is the Cade's Reef, a marine protected area and home to one of the best reefs on the island where you have an hour to stop and snorkel. The rich marine life in Cades Reef includes a number of fish, sea turtles and even dolphins. After the snorkeling stop there's also "play time" where you're encouraged to goof off and try tricks with your boat. And of course, there's time to take in the sights of the beautiful west coast that includes some of the best beaches in the world such as Frryes, Valley Church and Darkwood Beach.
Just check this out!
Indigo Divers
If staying on the surface isn't enough for you, then Indigo Divers may be able to satisfy your inner Cousteau. Boasting themselves as "Antigua's premier PADI scuba diving operation," this diving group is located at Jolly Beach, close to a number of good dive sites. Indigo Divers will take you to spots that hold amazing marine life, including reef and nurse sharks, barracuda, eagle rays, eels, and other sea creatures. Indigo's helpful team will ensure that you feel secure on each dive and even provide drinks and snacks if you get too hungry or thirsty.
Extreme Circumnavigation Tour
Offered by the same company as the Eco Tours (Adventure Antigua) this tour is designed for those with a love for speed. The 45 ft speed boats will jet you around the island as you get the rare chance to observe every inch of coastline and all 365 famed beaches. In between there are a number of stops. First, you'll get off at Stingray City for the chance to hold, touch and feed stingrays in a safe and secure environment. Then you're jetted off to the undeveloped Green Island for lunch before touring the historic Nelson's Dockyard. The tour then moves on to the Pillars of Hercules for a guided snorkeling session before visiting the secluded Rendezvous Bay. If you love the excitement of jetting through the Caribbean at top speeds while visiting exclusive locations, then this is the tour for you!
Paddles Antigua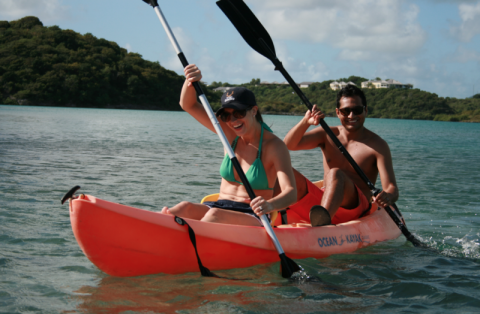 If you'd like a bit more of a relaxed tour on the water, this tour is for you. The Paddles Snorkel and Kayak Eco Adventure starts off with a short boat ride from their beautiful garden location to a secluded offshore island where you start your kayak tour. You will paddle through the mangroves as you get the chance to see and touch the marine life such as starfish and conch, or view the endangered West Indian Whistling duck as they fly overhead. After your kayaking, you'll then be taken on another short boat ride to Great Bird Island for a lunch and snorkeling stop. On your return, cool off in the shaded garden with a tasty cup of rum punch. As a recipient of multiple Tripadvisor Certificate of Excellence, this is one kayak trip you don't want to miss.
Take a look at the full set of Antigua Tours and Excursions available.