We awoke at stupid O'Clock in Antigua and not tired after a good sleep in the resort after our Shirley Heights evening. Onto one of the things that had always delighted me like a daisy in spring was breakfast in the Halcyon Rex. A full buffet style is what you get and the bacon is american style in case you are wondering. If you don't know what that means then look forward to that one day !
We had planned to stay and enjoy the resort today or at least the morning part and we found a spot by the pool. The resort was quite a lot busier than I had remembered it and it wasn't managing to keep us in the comfort we would like in terms of comfortable sun loungers. They were the plastic with nylon fabric inners but those had long since had way too many big buts and boobs in them stretching them so that they now offered less support and so you can feel the plastic frame. I elected with my bad back to lie on the grass.
Erol was an old acquaintance from previous visits and I was pleased to see him always a funny bubbly character was taking the aqua aerobics in the resort for the start of the week before another guy Fenton would return. With my bad back this was a great opportunity for some low impact exercise that I have had to stick to for some months now. I did manage to get San to join me. It was a fun and hard as you wanted to make it exercise that was quite enjoyable and clean.
That morning we also went for a stroll the length of Dickenson Bay past Sandals Antigua Buccaneers and Coconut Grove and Ana's on the beach to name a few. There are stalls of local vendors at random points never too many though and its a great place and beach to stroll along.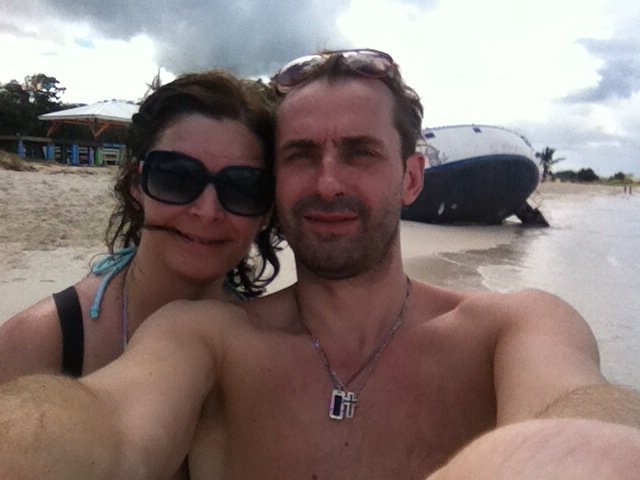 We were not yet used to the sun but took our time as in Antigua style and it was all starting to feel very nice the week was going to be great.
We got back and went to the buffet lunch at the Carib Bar which is outside, had a glass of wine and enjoyed the hamburger and curried chicken, and various other good things I could cram on mine. We were feeling the midday heat and decided to head back to the room and get some sun free a/c. Sanchia had noted that she had a racing pulse and brushed it aside like it happens a lot. So I thought no more of it at that point but I shall take note of this in future.
It was apparent that San was not 100% very quickly and her symptoms became rapidly worsening. I checked on the option if needed to get a doctor and was informed the call out charge alone was $200 US !!! As our phone was not working in the room I got a little angry again and ranted slightly at reception as it was a pain to have to converse manually at the desk each time when I simply wanted to ring. Now leaving San in the room to check about the doctor the importance of the phone irritated me as I had already mentioned it. Tour companies etc will also get through to you via the phone. They need to be working.
Sorry Sanchia let's give it 15 minutes before we call the doctor I said. Sanchia stabilised and it didn't look so grave and we held off on the exorbitant doctor. It turned out we think that it was Heat Stroke. We wrote off the afternoon and evening but we were glad that she was recovering from her horrid symptoms that were mostly dizziness and pulse related.
We did start to think that we should be cautious and not book any scuba diving however well we felt mostly for myself I developed a cold the day before leaving and it was still present.