If you pardon the pun I may be in your boat; liking the idea of sea fishing but being denied by the cost (unless you can build your own group).
Tony from Tony's Watersports in Dickenson Bay was for once a welcome beach vendor!He had said to me that I could do regular big fish sea fishing (trolling) for 150 USD ! I said it sounded too cheap as previously you get figures starting from 450USD and upwards on other days and other islands never had a sea fishing trip been within reach. The once exception was a boat from key west where you dangled a bait with 30 others from a bigger static boat – not at all like this !
This the sea-fishing for Sailfish, Marlin, Mahi Mahi, King Fish, Tuna, Wahoo etc
I had to admit there then on the beach I was really keen but the boat was due to leave in the morning and that was hard for me getting up in Antigua – I know what your thinking but I like to sniff the evening air I am a sufferer of FMO The fear of missing out… Perhaps more problematic was the poor wifi connection and the fact that SMS which I had or mobile phone was getting dropped by people in favour of whats app to keep information flowing. So at one point I didn't get to give Tony a message (we didn't have each others number and I dropped the flyer !). We got back at midnight to a message he had tried to get me at the hotel. So I went to bed thinking that was that and was slightly miffed annoyed by my hotels lack of connection. In the morning Tony came back and the tour seemed to have shifted to the afternoon and was I interested. So I accepted and I was going fishing ! I still didn't imagine it was going to be the real deal at 150 USD however there were some others so it could be great.
http://antigua.fish a new website all about fish and fishing in Antigua. Antigua.fish moved to Best Antigua Fishing.
Tony will drive fisherman down (to do the tour inclusive in the price) to the catamaran dock in Falmouth a hidden away gem in that area worth a detour in a rental car. It was at that point after the colourful drive down with vendor Tony and other fishermen Tim and Steve that we got to step out next to the boat Obsession.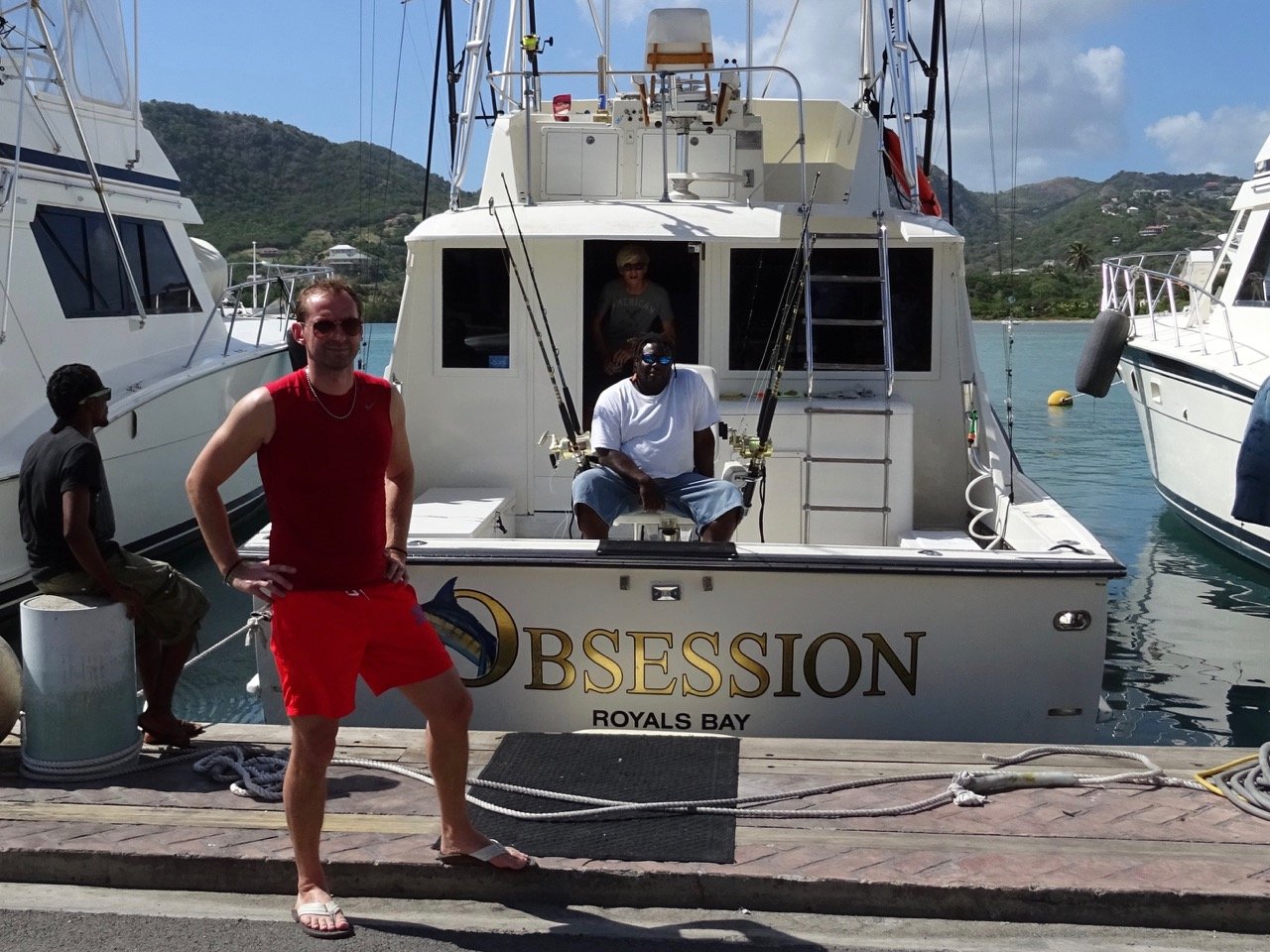 One of the issues with Antigua is the cost of getting your own transport to the tour as often its not included and is expensive addition when if you book through someone like Tony he can take you as part of the deal . If you need a cheaper alternative to the fixed price taxi fares there are a couple of Best Antigua recommended taxi guides on this website. To get in touch with Tony use the contact form at the end of the adventure.
The catamaran dock in Falmouth
Back at the dock in the bay where you can sit we were introduced to the crew and Captain Derek. He has a lot of experience and accreditation. Behind was the Obsession and my worries immediately vaporised. Obsession is a lovely boat as you can see and well kitted out. On the tour soft drinks and beer are the options available so take snacks with you. I paid Tony in full in cash and there is the facility to pay by card at the dock. You can take a bathroom break here before boarding. 10 minutes later we were busy filming the lovely boats in Falmouth.

As the fishing boat powered out to the south side fishing spots that give the chance of catching, the boat has the electronics to help find the fish too. We were not given direction on how to set up the rods as its not the kind of thing that would happen at this level but the young Chris was helpful in answering any questions I had. Derek was driving up on the top of the boat. We had a total of five rods two out rigged rods two from the rear and a rod high in the middle spinning direct out back.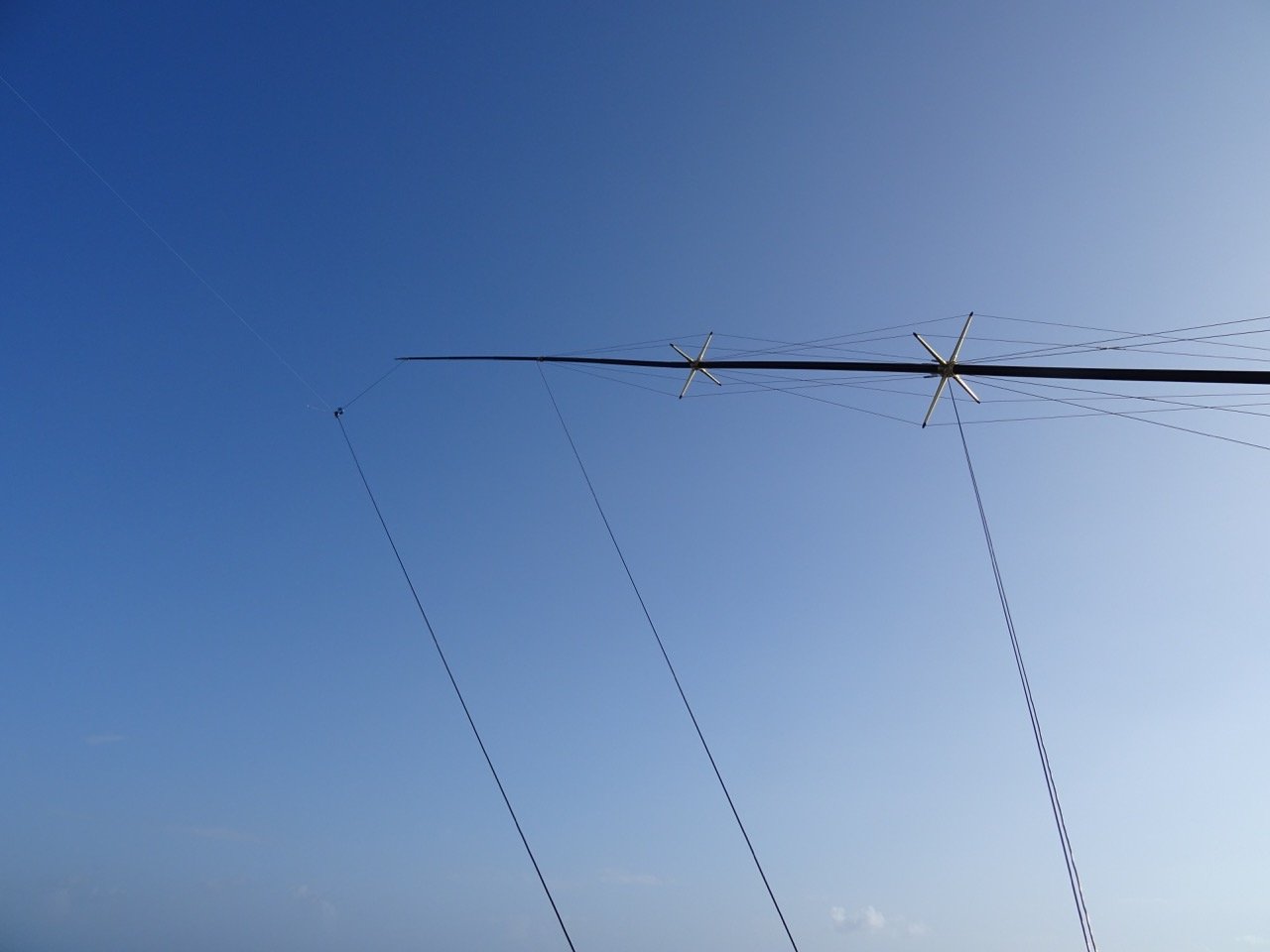 This setup is easy to keep the lines from tangling. I chatted to Steve and agreed that it felt like we were landing and playing the fish more than we were fishing but we were novices and I am sure that you can have more input if you are experienced. I also felt that a big take and Marlin on the end would get us hooked on this different kind of fishing and all that would be forgotten. So whose rod is whose? In fact it seemed to be survival of the fittest in this regard on the boat and James and Isabel seemed to be fit taking most of the rods !
About an hour in nothing had yet happened but I was happy getting to grips with the mental working out the rigs and the chatting to the others. I still have a passion for fishing of any description this was clear so this tour was a little bit about self discovery too.
We were a few miles out it seemed and Antigua was a single deep muddy grey silhouette. The water didn't at any point offer me any clues that it was going to be an epic day at sea. What I mean by that is that on a few occasions you get a lot of surface action birds fish jumping etc – it suggests a lot is going on underwater and a day on the surface like that has led to many great dives. This afternoon a flying fish far off was all that I saw no turtles etc. Pass me another Banks…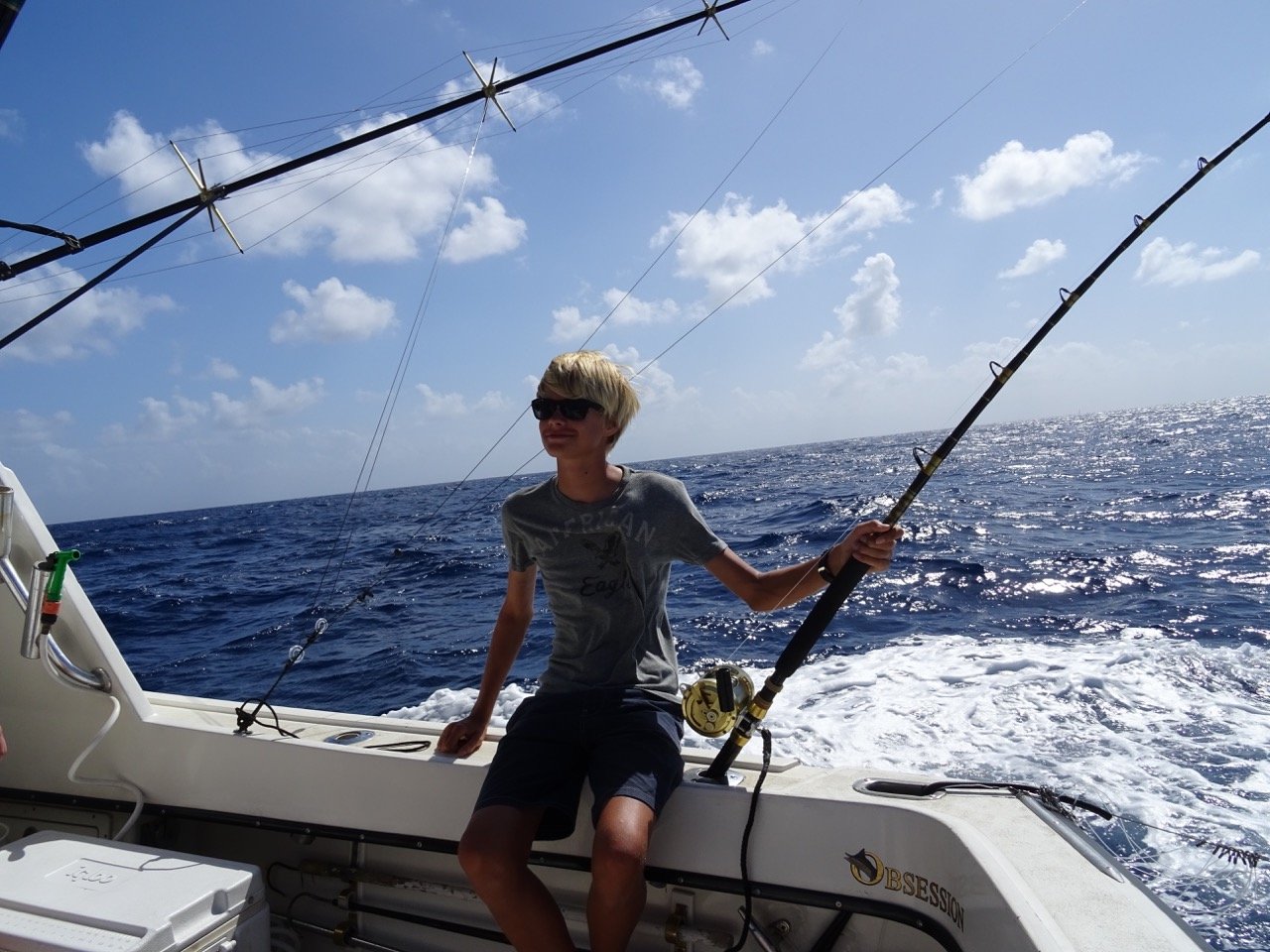 It was my first time on a boat and for 5 hours (length of fishing tour) so I was getting a mild nausea. We got into rougher seas, but really it was not rough. Make sure to drink water in between those beers or anyway to stay hydrated and keep covered in sunscreen or shirt.
The Obsession was a great boat the diesel fumes couldn't be smelt and it was comfortable and could have taken more people without feeling crowded. We were trolling along and then this happened
https://www.youtube.com/watch?v=qLchg493HsE where James got us off the mark with a Barracuda which made us feel better and that at least we wouldn't return fish less.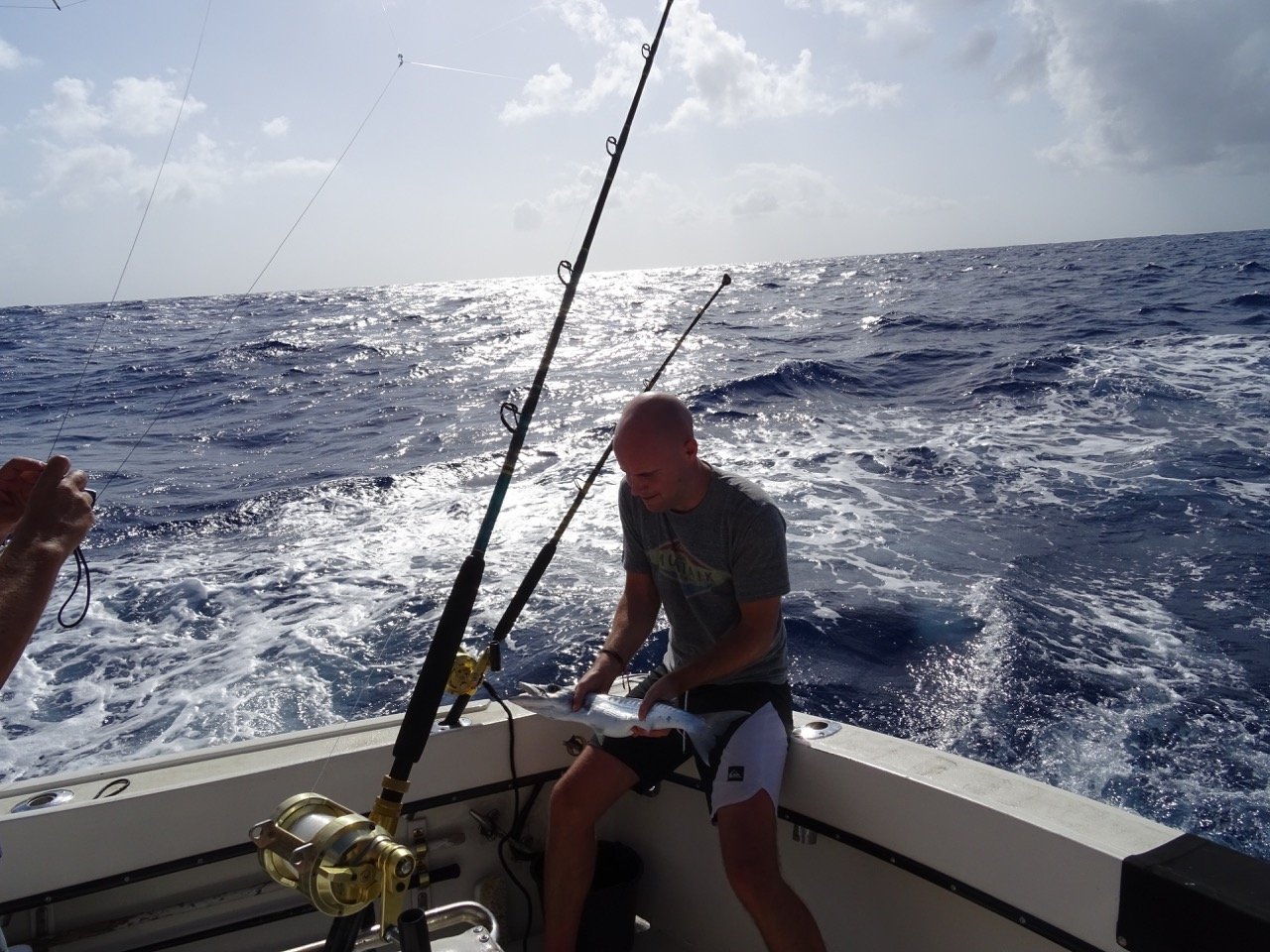 This was Tim in action next
https://www.youtube.com/watch?v=4NR5uVFbqdU
The one that got away ! Sorry Tim that could have easily been the best and most beautiful fish of the day.
Well I needed to get on a rod of my own and I needed to try get the next one I decided. So its not just getting on as many rods as you can it's well being lucky and I may have got lucky here ?
I did seem to have a knack of spotting the takes despite the Banks consumption and I had decided the next was mine if Steve didn't make a claim as he had also not made a move for a rod. This time it was a bit different as the bait had been checked and brought in. The rod almost had not settled down it was as if the fish hit it on the way out. In the event I saw it and called and the crew guy (not Chris) I am sorry I forgot your name (please get in touch to edit) got and handed it over – such was my excitement. When you get a 'take' you hear the tackle sound like the reel or the bang of the line disengaging with the outrigger it's exciting as bedroom sport. Sorry to make such a reference however it needs underlining how exciting it is this is what makes a fisherman fish along with the other key ingredient which I believe is that of being in nature.
I wanted to not loose it after Tim's and it doesn't mean you haven't kept the line slack or didn't set the hook well as these fish have bony heads – but you need to try and keep a tight line. I got into the playing chair and knew I had a decent fish on. What a great moment and life experience I was having. My left bicep even with the help of the rod but rest was burning but I had no intention of resting it.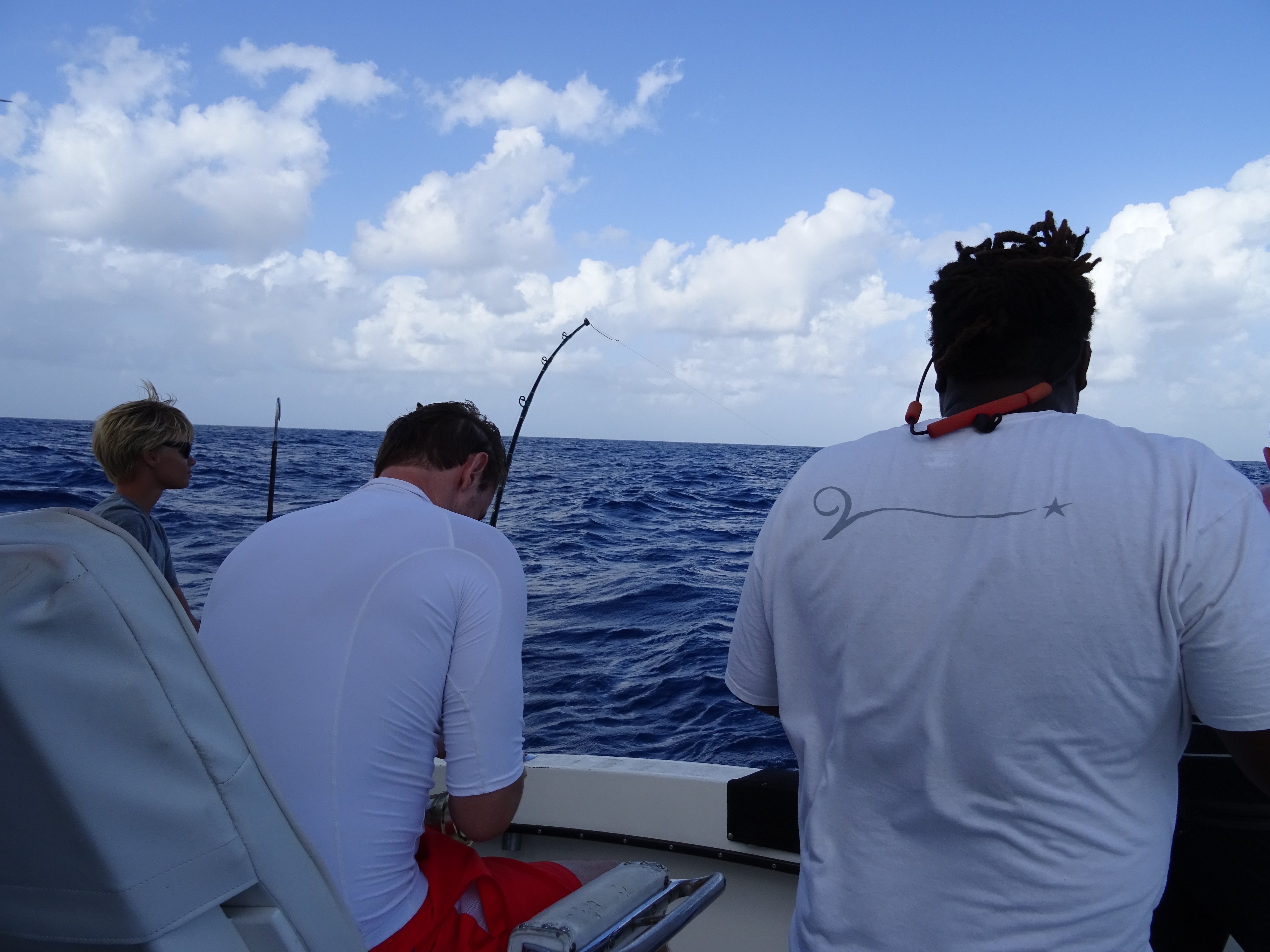 I remember thinking I had lost the fish at one point but the fish was coming toward the boat JAWS style. Derek told me it was still on from his vantage point. There was another take that James jumped on and I think it was just before 'my' rod went off he landed a small rainbow runner.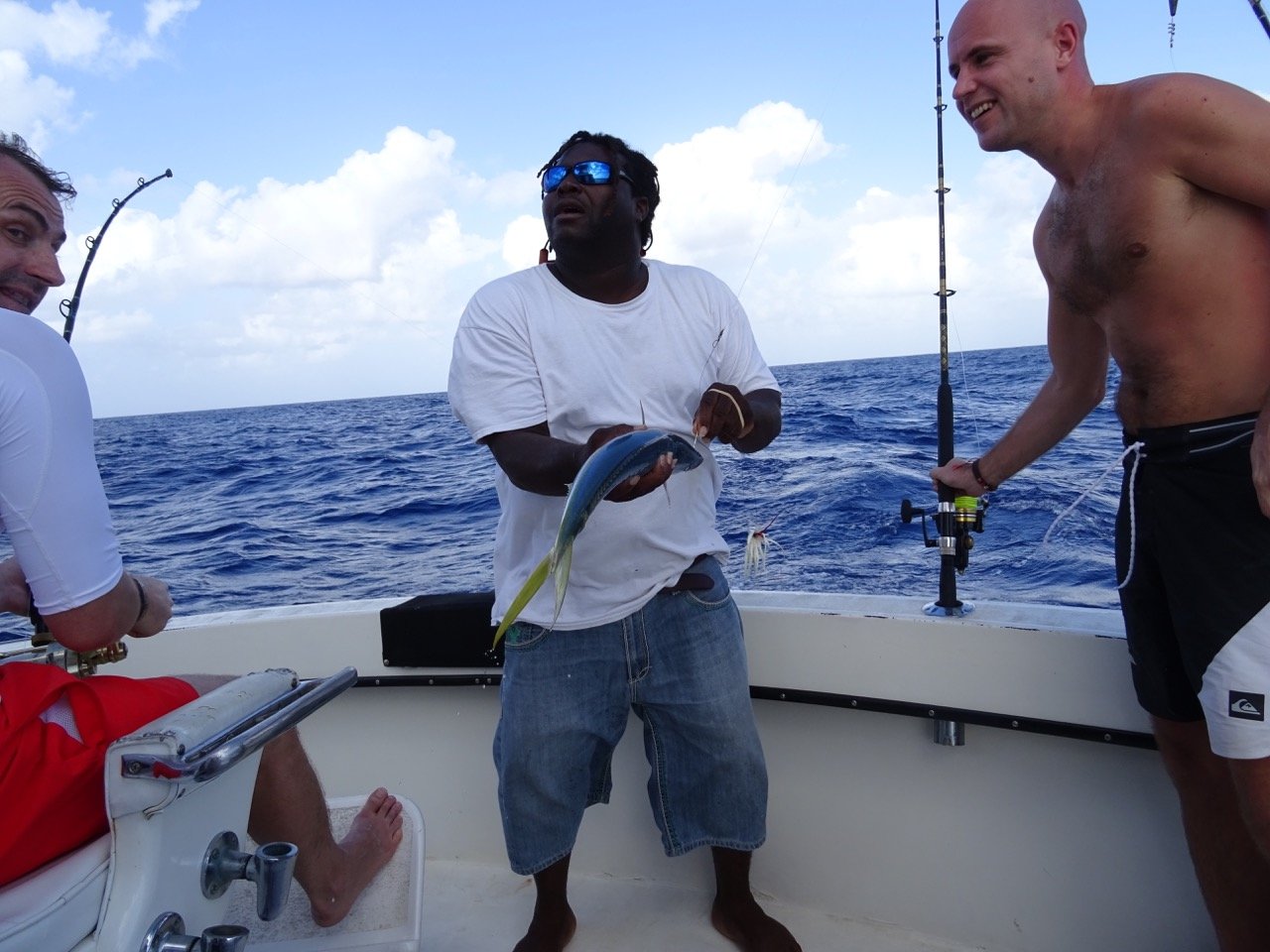 The boat has to aid in tiring the fish I guess I might have played the fish for 5 minutes when Derek hoped down to try and 'land' it. It was a great feeling to almost have it on the boat but I was enjoying the arm agony and the feeling of a big fish on the end. I didn't think it was a really big fish but I knew it was more than the smaller fish we had caught so far. I kept reeling in and pumping the fish closer – Crew kept telling me to relax and I was trying ! I was not relaxed when winding the reel as the slack line is the better chance for the fish to shake free.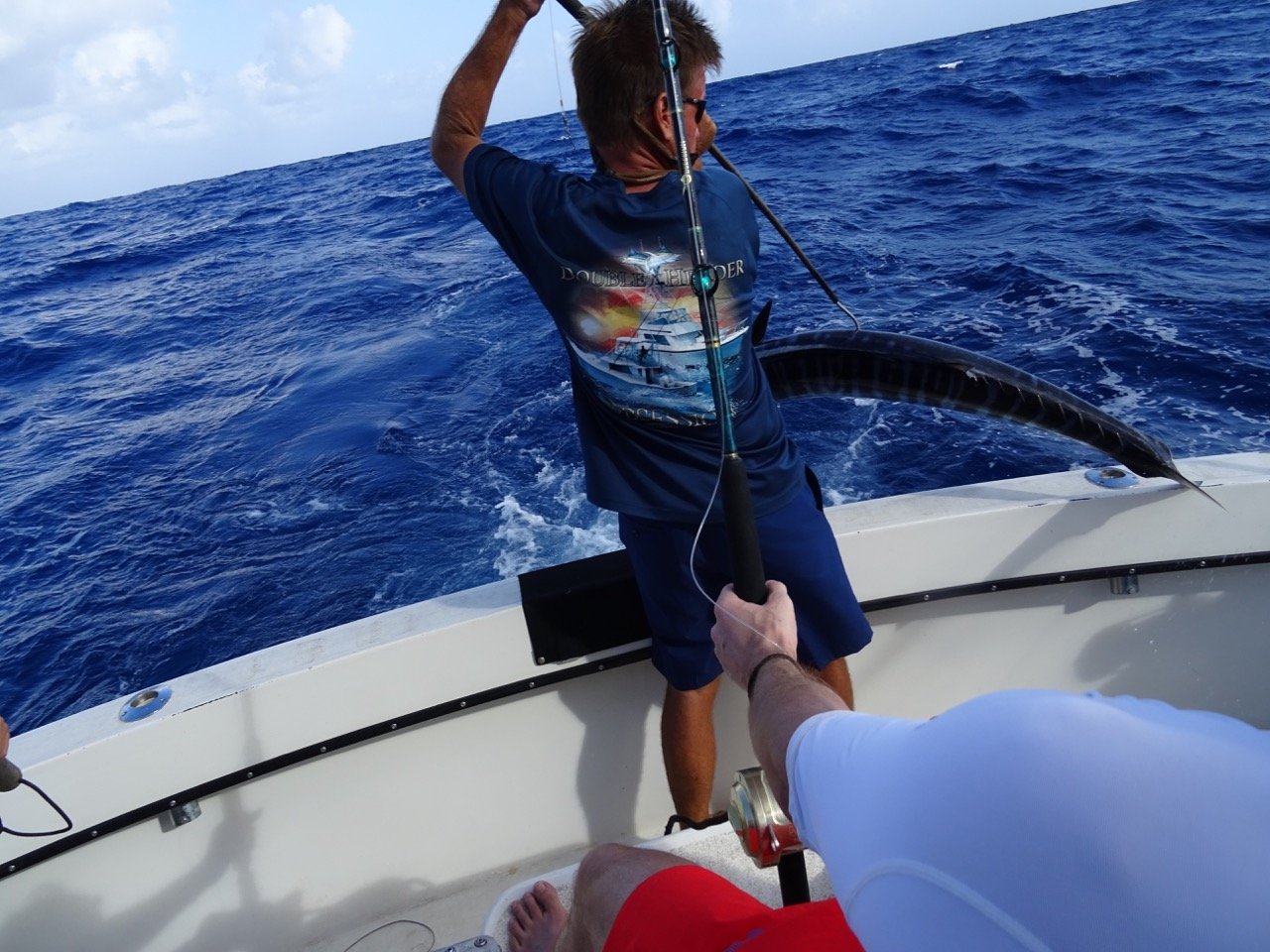 Captain Derek landed the Wahoo aboard. I immediately felt the slack line and rested. I was so very happy the exact opposite of the Wahoo I should imagine. That Wahoo will kill no other fish either as a human I am guilty of engineering myself within his food-chain.
https://www.youtube.com/watch?v=JYazlfrvQXE
Ice was put onto the wahoo that was placed directly in the fish cooler. I seemed to be more interested in wanting to get my picture taken of it time to reflect on that later.
I was feeling slightly for Tim, Steve and Isabella hoped they would jump on the next take it was theirs ? Another Barracuda this time for Isabella hopefully made her vacation as well, at least the tour. A funny moment was that she didn't of course want to hold the fish. No more fish were taken though of course for me I was happy and wanted other fish for us all in truth. We wound back to the harbour with a missed take in all that remained.
A funny thing happened I think I filled up with beer ! I couldn't wait to tell and show Sanchia my girlfriend about it all. It has also been a great trip and a good test of my super zoom compact camera, most all of the video and shots of this trip were taken with it. It has a stunning set of features and a zoom that brought boats in close from afar. There is always something to see in Antigua and even now I got some last video.
https://www.youtube.com/watch?v=M1piLhpPk4w
Derek prepared the fish on a steel table after I got my photo opportunity. Derek's pets were already waiting as we docked; tarpon always a delight for me the biggest I have ever seen cruise the docks at Key West but they are a good looking dinosaur age fish.
Derek gave us all some steaks to take back and cook Tim and Steve were self catering so they could cook theirs but the resorts are being unclear to the fishing tour companies on if they accept meat from customers for liability reasons and I was adamant that I didn't want my resort to waste any steaks (IF THEY DID NOT) I took away so I never ate any of my Wahoo.
Here is Steve and Tim's video
https://www.youtube.com/watch?v=OC59I2k5boc
If you want to book this trip contact Derek's or Tony's team here. If you are in the north maybe try Tony to see if he will drive you down.