Jolly Beach Resort and Tranquility Bay Bars and Restaurants
Boasting of "The Best Beach By a Mile" the Jolly Harbour area (includes Jolly Beach Resort) represents one of the most popular and frequented tourist areas on the island. This large development is home not only to a number of resorts such as Jolly Beach Resort and Tranquility Bay, but also to a quiet yet vibrant gated community. The beautiful, long, wide beach offers enough space that you can enjoy privacy if you choose or be amongst the action if you prefer to have some company. What sets Jolly Harbour apart is the wide range of nightlife opportunities within just a few minutes walking distance. Here are some of the most popular nightlife spots in Jolly Harbour:

One of the newest nightspots in the area, "De Underdog" is located in the Jolly Castle building just outside the entrance to the Jolly Beach Resort and is a great way to spend an evening! This bar and restaurant features a great mix of locals, expats, and visitors out for a great time in Jolly Harbour, a refreshing difference from many of the typical "touristy" spots. During the day and evening, they serve affordable pub food for any taste and budget before transforming into a lively late night hotspot. Tuesdays are karaoke night – so get ready to belt out those tunes, whether or not you can sing on key! Friday nights are bingo nights, where cash prizes are available. There's also a pool table for the pool sharks, and plenty of room for dancing if you're in the mood!

Located right along the docks at Jolly Harbour, Westpoint Bar serves as a fun and scenic place to enjoy an evening out at Jolly Beach. Sit at the bar for one of their specials or relax on one of a number of large comfortable chairs and sofas. Friday karaoke nights are a favorite among many in the Jolly Harbour community or you can just sit and watch the lights twinkling from the yachts moored in the harbor.
The Crows Nest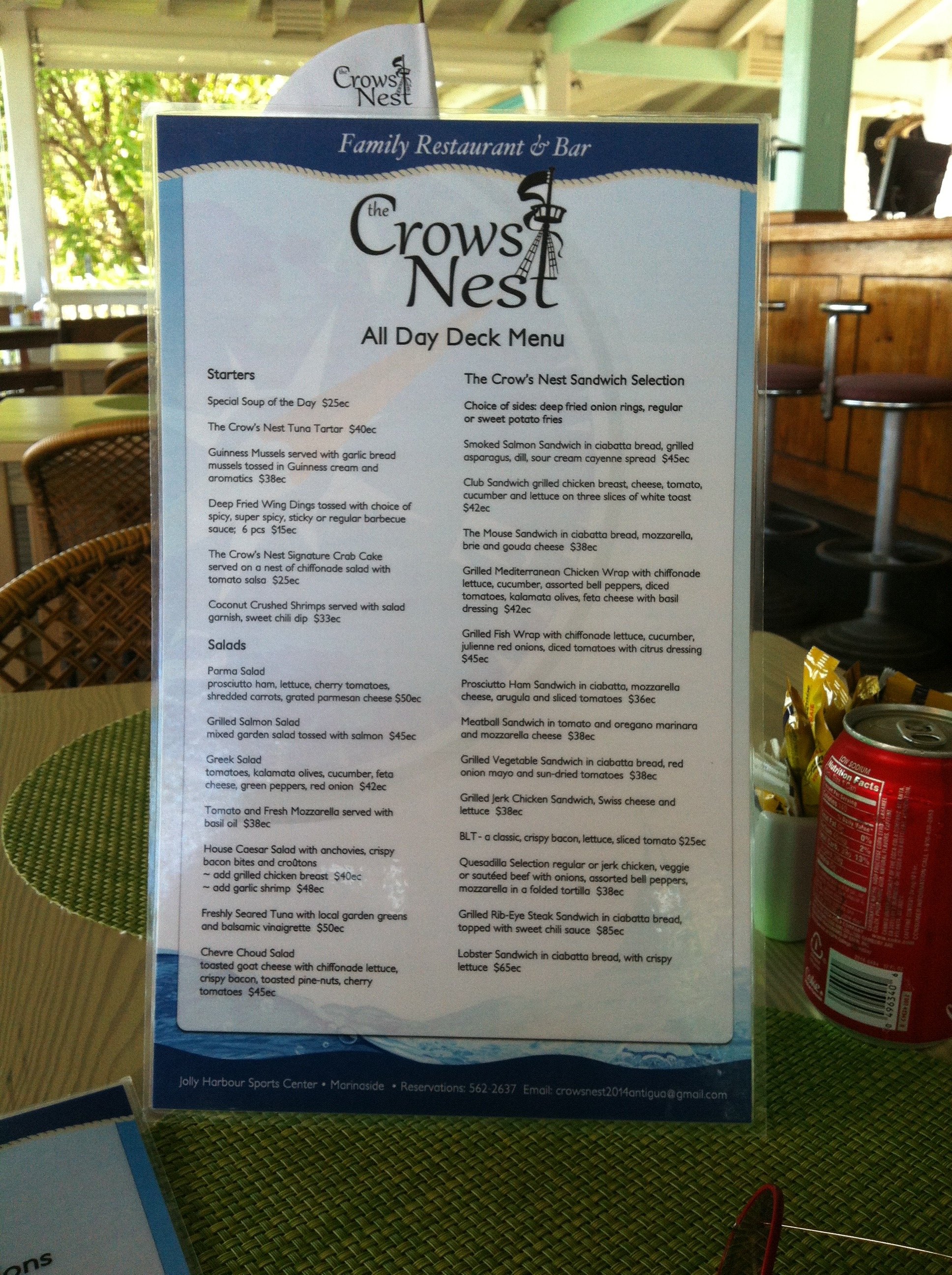 The Crow's Nest is situated just off the Jolly Harbor commercial center. This restaurant transforms into a fun night spot later in the evening. Come for the karaoke nights on Wednesdays. During the weekends is when the real party starts – there may be a full local steel band playing local and regional tunes, or any number of live bands from Reggae bands like The Survivors to Latin bands like the Tobacco Band. Tuesdays feature the Cutting Edge Band with award winning musician Laku Samuel to play a soothing fusion of steelpan and jazz music. On Wednesdays is the Evolution Band, which plays a mixture of reggae, calypso, and soca music.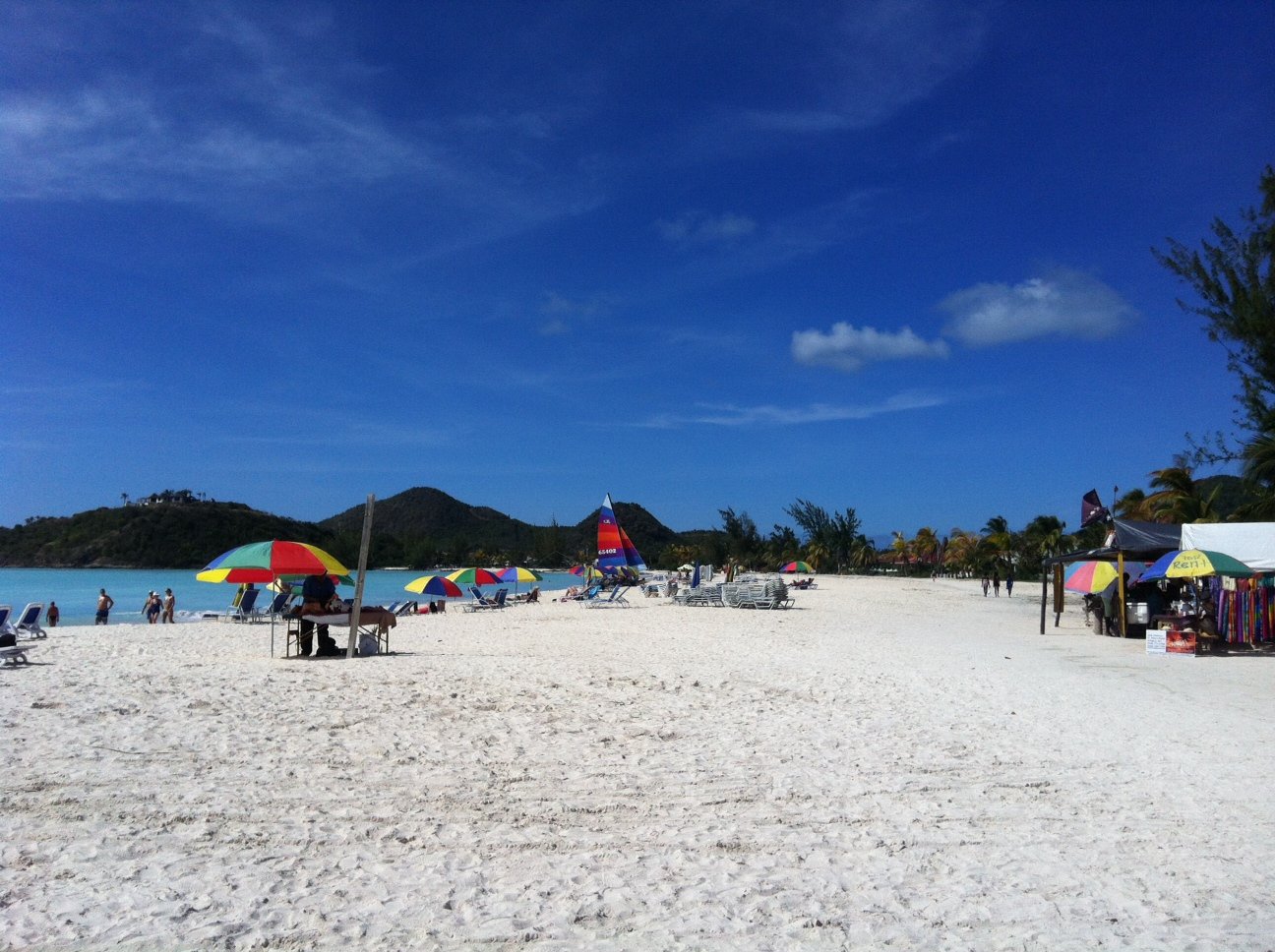 Castaways is the ultimate island party getaway – located right on the beach, this is a great stop for fun and entertainment all night long! The week starts off on Monday with their Caribbean night which features a number of different live bands from reggae to steel pan to soca throughout the evening. [Editors note after refurb we think Monday is now karaoke.] Friday is also very popular, with their karaoke night kicking off at 8 pm along with a beach bonfire, giving you a chance to sing your heart out. If you're too hungry, or not tipsy enough to perform, there's also a special rum and pork menu to try out. You can also enjoy their nightly 2 for 1 happy hours from 4:30 to 7:30 daily.
Sugar Ridge Sugar Club
Just across from the Jolly Harbour area is the hotel Sugar Ridge, and their associated bar and restaurant, Sugar Club and Carmichaels. Enjoy their Sunday Chill sessions, where resident DJ Anya spins the latest tunes while you relax at the pool and enjoy the sunset until the evening when things liven up. Monday is Caribbean night, complete with steelpan players under the stars. Wednesday is steak night, with a live band headed by popular local singer Arianne White. And Fridays is seafood Fridays, with live entertainment by Rico and the 4 Play Band. If you need to let your hair down, Saturdays is the time to do it with the weekly club nights featuring top DJ's from around the island.
West Coast Village

West Coast Village is Open ! – Just opposite Sugar Ridge is west coast village an accumulation of perry's pizza Antigua ATV Tour and a few other restaurants which have places to drink – the carriage is very original.