Looking for a great holiday but can't be bothered with the fuss of traveling to different restaurants to eat or other places for activities? Or maybe you would really love a fun holiday but you're also on a budget? Don't worry – there are a number of budget friendly options for those looking to stay all inclusive. These hotels are situated on some of the best beaches on the island, but for a price that won't break the bank either. Here are the resorts:
FAMILY
Verandah Resort & Spa
The Verandah Resort is geared up for families who also appreciate space, luxury and tranquility. Its architecture combines elegance with modern design, creating an inviting ambiance for guests to unwind and relax. Surrounded by lush gardens and offering typical sun-kissed turquoise views, this resort provides an enchanting escape.
The accommodations are to a high specification. The suites and villas are beautifully appointed, offering a perfect balance of comfort and style. Each private veranda provides stunning vistas, allowing guests to immerse themselves in the natural beauty of the surroundings. Whether situated by the beach or nestled in the gardens, these accommodations offer a peaceful retreat.
The resort offers a range of amenities to cater to guests' needs. Multiple pools invite relaxation and refreshment under the warm sun. For those seeking adventure, various water sports activities (all inclusive) are available, including snorkeling and kayaking. Dining experiences at the resort's restaurants are delightful, offering a diverse culinary journey. The spa provides a tranquil sanctuary, where skilled therapists offer rejuvenating treatments. You are allowed to escape the kids sometimes.
The Royalton
The Royalton Antigua combines adult resort amenities and also children's – learn more on their official webpage.
BUDGET
Halcyon Cove by Rex Resorts
UPDATE: Sadly this resort will be lost in time as it is being demolished, at least in part. And so we chose to keep it here for those who remember it fondly. In its place will be Royalton Chic which is a particular kind of resort visit here for the Adults Only Playscape – their words not mine!
Located on the sweeping white sands of Dickenson Bay, Halcyon Cove is a great option for those looking for nightlife and fun activities without having to stray too far from their hotel. This all-inclusive resort shares the beach with a number of other properties, such as Sandals, while still retaining a quaint charm and reasonable price. You can choose one of the several restaurants on the property, such as the Arawak Restaurant or the Carib Beach Bar. For a more scenic location there is the Warri Pier, which stretches out into the ocean and gives you a beautiful view of the sea life below. If you still feel like venturing outside the resort, there are a number of restaurants and bars just a walk down the beach, including Coconut Grove, Ana's on the Beach, and Putters Bar and Grill. There are four tennis courts if you want to work up a sweat, and a number of motorized and non-motorized water sports which include hobie cats, water skiing, and even scuba diving, although it should be noted that watersports occur an additional charge. Located just a few minutes' drive from the capital St. John's, Halcyon Cove is a great all-inclusive base for anyone visiting Antigua.

Jolly Beach Resort
Update: Things are looking good for the resort with a reopening and renovation in 2022/23. The resort is owned and managed now by Elite Island Resorts who will get the most out of this place. I really hope they keep the price point manageable for introducing a wider audience to Antigua. Find Antigua deals now >>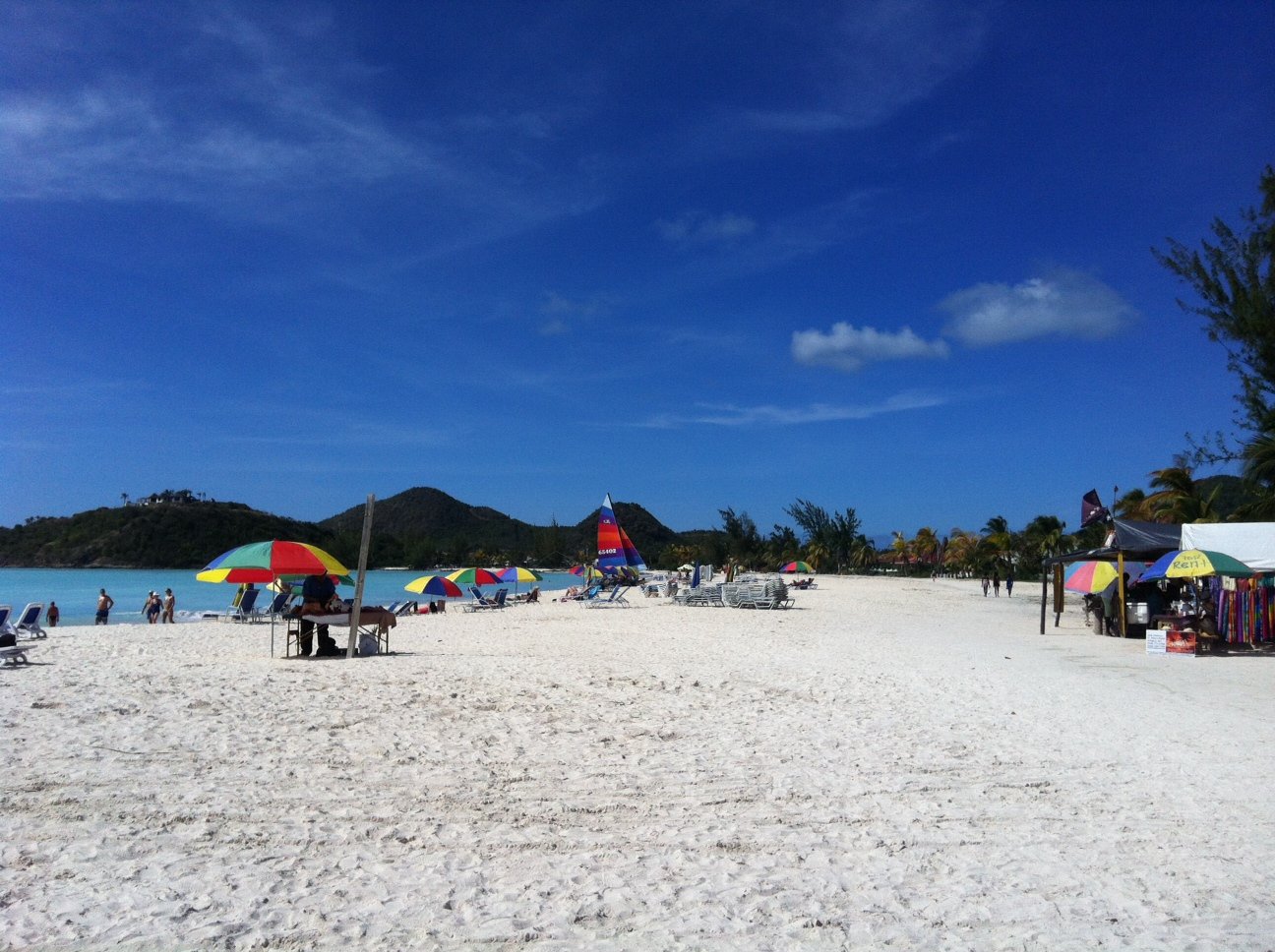 Located on the self proclaimed "best beach by the mile" Jolly Beach Resort boasts of being the best selection in your choice of affordable all inclusives on the Island. Visitors can expect a two mile stretch of wide, white sandy beach with plenty of space to stretch out. There is also a gym for those who can't miss their workout. For those looking for a more relaxed vacation, you can visit the spa at the Palms Wellness Centre. Hungry? Try any one of four different restaurants on site, from the relaxed open – air atmosphere of Lydia's to the classically styled Italian restaurant Bocciolo. If you get bored you can explore the wider Jolly Harbour area that offers lots to do and see. You can dine in any one of the nearby restaurants such as Melini's or Akropolis, or you can belt out your favorite tunes at the Underdog Bar and Restaurant. There's also a nearby shopping center and supermarket if you want to pick up a gift or souvenir. Jolly Beach Resort is definitely a great choice for all those looking to holiday on a budget. Check our nightlife review in the area.
Grand Pineapple Antigua Resort
Grand Pineapple Antigua Resort is located on the extreme eastern end of the island on the beautiful Long Bay. One of the best beaches on the island, Long Bay offers unique opportunities for off the beach snorkeling and marine life. This picturesque hotel is relatively secluded from the hustle and bustle, but there is a lot to do on site, including having a swim in any one of the two available pools, playing tennis on any one of the four tennis courts, or working out in the air conditioned gym. If you prefer to be in the clear blue water, then there's a range of non-motorized motor sports available including windsurfing, kayaking, and the previously mentioned snorkeling. Choose from at least three different restaurants and three different bars for food and drink, or make the trek up the hill to the Outhouse, which offers panoramic views of the island.
Hawksbill by Rex Resorts
Update: This resort is currently closed whilst an extensive renovation takes place. Word has it that the resort will get a much anticipated larger swimming pool.
Hawksbill lies on one of the most scenic beaches of Antigua, Hawksbill Beach. This nearly undisturbed paradise sits on 37 acres of manicured gardens and lush greenery. With four beaches to choose from (including one that's clothing optional) you'll never get tired of the scenery. Dining ranges from the international and local buffet style restaurant Tamarind Tree to the Italian flavored Il Vigento Su Mare. There are also a number of watersports to choose from, although these incur an additional fee. If you still feel active, then you can get your inner tennis pro on with a game of tennis. Accommodation ranges from a semi-detached bungalow to The Great House, a completed detached family dwelling styled with typical Caribbean flavor.