Get a good deal (service and price) on your Antigua Car Rental.
It's the very last thing you want to do after your flight to Antigua is pick up a rental car. You do need to pay attention for just a while to go over the paperwork with your car rental company of choice.

Choose Best Antigua for your car hire needs on Antigua.



There are a few rental companies and you can find some varying rates. During busy times you may be lucky to get a car at all, for example during sailing week. But you got lucky or took the best car rental deal and here you are with your car rental agreement. Inspect the vehicle for damage and get the representative to mark your agreement so that there can be no mistake if it already has damage. You will be required to sign that you do or don't take CDW insurance which does not mean the same as in other countries but does offer protection. Remember to drive on the left and drive defensively. But overall driving in Antigua is fine- just take it easy MAN!
Never be in a rush driving in Antigua !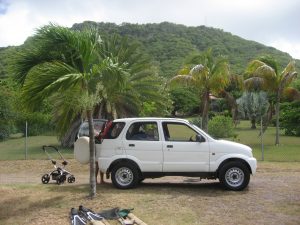 Check our cars for rates and type on our car and jeep page.
To get a quotation and get your jeep 4×4 and car (ANY VEHICLE) rental Just fill out this form and include dates of rental required (book well in advance for sailing week and over the high season) and the kind of vehicle you are looking for.
Antigua Driving License for Car Rental
You will need to also buy a license which lasts for 3 months, after a year you can take a test and get a full license. Places like Jolly Harbour will then further tax you to keep your car there! $10 USD one off fee.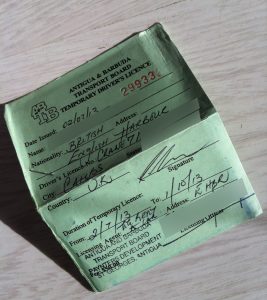 The Kia Rio- a low ride position but well specced and economic. I mean this car is still with us as a favourite. Don't try and overtake as it is pretty gutless. The Kia Picanto is cheaper still and thats why it always seemed to be rented 🙁
I have chosen this car again as it is very economical and comfortable – I have since been able to raise the seat and the driving position is normal. I don't have massive luggage needs and important I don't stay in a bungalow or villa with a road that is best done with a 4×4 so check your vacation rental for access requirements.
Here is the lovely indulgence that we rented out a couple of times. When we needed that extra space and comfort then the Suzuki Vitara is hard to fault.
Driving in Antigua Tips
CDW – available at $10 USD per day extra. But CDW doesn't cover you in the same way this works in the US (ie its not for minor damage). Here it helps you avoid paying out after 1500 USD for big crash or major damage that is your fault. But note you still have to pay the first 1500! So don't take chances and drive defensively.
Here are some actual driving in Antigua videos to show you the pace and how easy it is:
More articles on Driving in Antigua:
A guide to renting a car in Antigua
Driving in Antigua
https://www.youtube.com/watch?v=gPOAuGUFql8