I had a great session kayaking in Antigua today – lots of Jelly's and interesting events – I blogged on CD so please read about it there. Link below.

http://caribbean-diving.com/caribbean-blog/entry/kayaking-in-antigua
Take your own Kayak Tour in Antigua Jelly Free!
This tour lasts around six hour and you get to ride out across some of the antigua countryside on the way to the kayak and snorkel adventure. It's ideal for families and loners or romantic couples alike.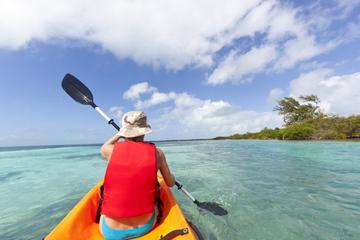 There is a boat ride to the famous Bird Island where the snorkeling and kayaking is based, you will also have a lunch there. So in this tour you get to see a lot and burn off some of those calories. You will probably make new friends too and you never know what the underwater world will show you.