Antigua and Barbuda is famous not only for sun, sea and sand, but also for parties! And there's no time of the year where there are more parties held than during the Carnival season. Every first Monday and Tuesday of August, the Antigua and Barbuda celebrates the historical emancipation with a show of partying and revelry that pales in comparison to any other time of the year. However, much of the action takes place long before the official carnival holiday: the Carnival "fete" season is a long held tradition of parties that take place weeks before the official celebrations.
Here are some of the hottest parties for Carnival 2015:
Caribbean Snow Storm (White Fete)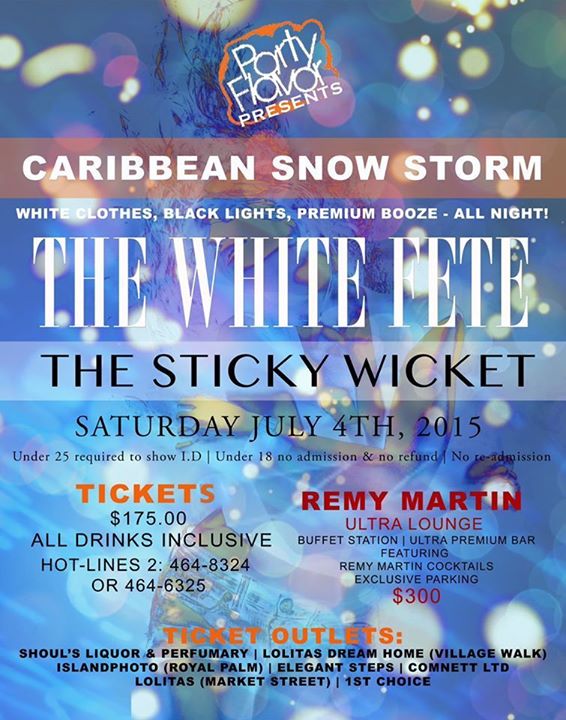 One of the biggest themed parties of the year, The Caribbean Snow Storm, locally known as White Fete, is on the must attend list of almost everyone in Antigua and Barbuda. This party, usually held on the first Saturday of July, encourages patrons to go all out in finding the most elegant and spectacular white outfits. This event is also all inclusive, meaning that you don't have to worry about paying for drinks because it's included in the price that you pay. You could also upgrade to VIP status which includes added perks such as food and secured parking. Check out the White Fete facebook page for more info on this event.
Blue Jeans
Blue jeans is another all-inclusive event, usually held on the second weekend of July. In contrast to White fete, Blue Jeans is a far more relaxed event, where patrons are encouraged to wear denim-related outfits. Expect a fun and relaxed vibe with a number of top local artists to provide the entertainment all night long.
Red Eye
This concert invites a number of local and regional artists on the soca scene to perform at the Antigua Recreation Grounds, otherwise known as "Carnival City".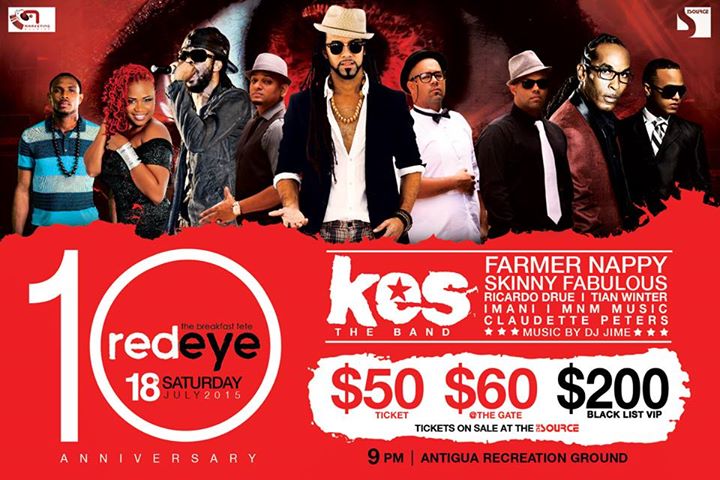 You can purchase your general admission tickets which include entry or upgrade to VIP which includes complimentary drinks, improved décor and other added perks. This year the lineup includes international soca superstars such as Kes, Skinny Fabolous, and Farmer Nappy. Visit their facebook page for more information on the lineup and ticket locations.
Tshirt mas
T shirt mas is one of the official events of Antigua's Carnival and is also one of the most well attended. Thousands of revelers join a number of private bands, such as Myst or Insane Mas to "jump" (party) on the streets of St. John's. Each reveler is presented with t-shirts for their band, along with other goodies such as free drinks, bandanas, drinking mugs, and other cool merchandise. Patrons of each band are usually separated from the rest of the crowd and the other bands so that they can enjoy a once in a lifetime party experience! Since t shirt mas is usually on the official opening day of the carnival activities you can be assured of starting off carnival with a bang!
Bring Bottle and Come (BBAC)
This bi-annual fete is the house party to end all house parties. This party has a unique method of paying for entry: you can choose to either pay a regular entrance fee OR you can bring a bottle of drink from a pre-approved list of drinks as your entry fee! BBAC is held at an actual house, allowing patrons to feel a particular type of intimacy that other larger parties and venues can't match. This party is usually held on the last Friday of July, just before the Carnival Monday and Tuesday.
We Come to Fete (WCF)


The official carnival "warm down" party, WCF is held on the first weekend after Carnival celebrations have climaxed. This party allows feters one last chance to recapture the carnival vibes that had them partying until sunup.
Of course, this isn't meant to be an exhaustive list of carnival activities. For more information on all the events for this carnival, visit the official Carnival 2015 website or you can also follow other local entertainment websites and Facebook pages such as Two Six Eight Entertainment or Fete Tracker for the latest up to date news and reviews.