Antigua is the perfect destination to have your sunny Caribbean beach wedding. Its 365 white beaches give you a wide variety of choices to plan your flawlessly beautiful wedding. You can have your ceremony on a secluded beach or on a luxurious yacht or simply amongst coral reefs.
Getting married in Antigua is an easy process with minimal legal requirements. You don't need to have minimum stay before getting married here. The marriage in Antigua is perfectly legal and binding. You only need to be 15 years and above in order to get married here. If you wish to have a church wedding, you will need to take permission from the local church authorities and also attend the pre-nuptial consultation.
Why Get Married in Antigua?
Antigua is 14 miles long and 11 miles wide, it is one of the largest British Leeward islands. The weather of the island is said to be perfect because it varies from the 70s to 80s from winters to summers. It is the sunniest of all Caribbean islands with an average rainfall of only 45 inches. Your guests will never get bored in Antigua. Here one can party at the Shirley hills or sunbathe on any of the 365 beaches in the perfect weather.
You can party on the island at Shirley Heights or watch the beautiful colonial architecture of the English harbor. You will have a hard time making your choices on the island with its wide choice of beaches, bars and restaurants. Not only can you have your Caribbean wedding in Antigua but also a hopping honeymoon.
What kind of wedding ceremony can you expect to have in Antigua?
Villa Wedding
If you love nature and rocks, then you can have your wedding at a private villa at the edge of rocks surrounded by the glistening blue waters of the Caribbean. The rocky outcrop makes your wedding unique and very special. Antigua is also famed for pictures taken near it's iconic historic plantation sugar mill ruins.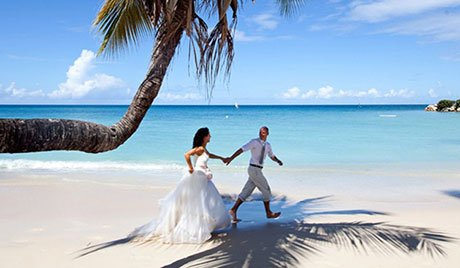 with its 365 beaches, you can choose to have your sunny beach wedding on any one of them.  You can feel the white sugary sand between your toes as you walk down the aisle to the smashing wedding arch erected on the beach just for you. This arch will be among the green palms and decorated with the flowers of your choice. With the sun smiling on you, the beach wedding is the perfect way to get married in Antigua.
Gazebo Wedding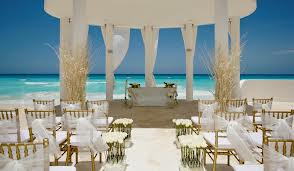 One of the most romantic ways to get married is at a gazebo wedding. Most of the hotels in Antigua have created private gazebo alongside the beach which gives you the privacy and the idyllic surfside at the same time. Wedding couple can enjoy a private wedding amidst turquoise splashing waters of the Caribbean and the glittering white sand.
You can also have a beautiful beachside wedding with a lovely beachfront gazebo and you standing under it with your charming spouse. The white spray splashing at your feet and the scent of bougainvillea will make your beach wedding spectacular.
You can book a special package with a top hotel where everything will be included. You can get low budget packages or luxurious packages according to your will.