Update 2019
Barbuda is open for business but the island still has not got back to pre Irma status.
It has given the government an opportunity to clear up some land laws as if they didn't have enough to contend with. Boats from a tourism capacity are now running to Barbuda and if you come please bring any unwanted supplies.
Cover image- Here is what Barbuda should be about!
Update July 2018
It is almost a year now since the Hurricane hit and this is an awesome video by marc and the excellence boat that really brings home the devastation and sadness that feels like it is still there. Also the Barbudan's are now in a battle to secure their land which the rebuilding effort probably caused. Anyway onto the video
https://www.youtube.com/watch?v=fz1nBla3tkw
Update 3rd October
The Washington Post leads with aftermath reports on Barbuda.
https://www.washingtonpost.com/news/in-sight/wp/2017/10/02/on-the-ground-in-the-devastated-island-of-barbuda/?utm_term=.0923abb1f83d
http://www.washingtonpost.com/sf/national/2017/09/30/stormislands1001/?tid=a_inl&utm_term=.a2f23de45508
Update 13th Sept
The estimated cost of rebuilding the damage caused by Hurricane Irma is estimated to be 250-300 Million Dollars. Here is more as PM Gaston Browne was interviewed by TIME.
http://time.com/4937000/hurricanes-antigua-and-barbuda-gaston-browne/
Update 9th Sept
Local people with boats are helping get aid and medical staff to Barbuda.
https://antiguaobserver.com/port-authority-bustling-with-barbuda-relief-efforts/
Update 7th Sept
Barbuda destruction is now clearly painfully evident the worst fears have been realised and it is reminding me of the tsunami in Asia that wrecked the surface of the land.
https://www.youtube.com/watch?v=OTa-sjJCgfM
Thanks to the guardian for sharing the info – https://www.theguardian.com/world/live/2017/sep/07/hurricane-irma-live-latest-updates-caribbean
Update 10:40 6th Sept
It looks like tough old Antigua has come away a bit dusty. No deaths reported so far.
The main worry is Barbuda, still no word from them. Helicopters are in readiness to go over. @live2hover is reporting that Montserrat is quite ok as Antigua.
More news here – https://antiguaobserver.com/press-release-summary-of-events-from-hurricane-irma/

Update 06:00 6th Sept
There is not much coming from Barbuda that got the brunt of the storm, the eye passed right over the top and reports on twitter showed the winds abating at the centre of the eye which would again pick up. The storm was showing record levels of winds of 180mph. Antigua has also sustained a battering and reports will be coming in today. Subscribe to the updates in this post and send us your photos. Thank you.
Image Source National Hurricane Centre at NOAA
It looks like there is a good chance that Irma is going to hit Antigua and other islands and the category 5 is now making this something to prepare for. Tuesday night will be the timescale for actually feeling what we hope will just amount to tropical storm conditions.
https://www.youtube.com/watch?v=bDxMr1EJuRw
Hurricane Watch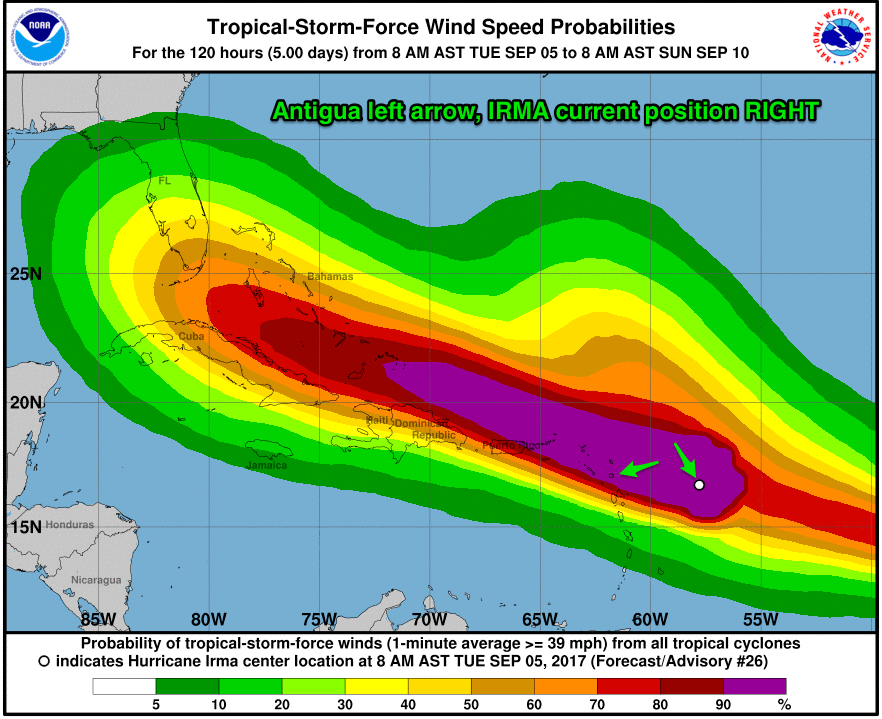 If you want to track the news on the female storm please click here.
Other Links
https://antiguaobserver.com/hurricane-irma-public-advisory-8-am/